When you are looking for a way to cool down your Florida outdoor patio, balcony, backyard, spa or pool do it with Advanced Misting Systems; our misting systems are long lasting, durable and most of all effective reducing temperatures by 30 degrees. The beautiful state of Florida is known for its mild climate and scenic beauty; yet it still gets hot in high summer. When you want to be outside and enjoy your outdoor space but are not wanting to swelter in the heat; install a DIY outdoor patio misting system. These DIY misting kits will have you out and enjoying your backyard, patio, garden and more during the hottest of days.
Get maximum enjoyment from your outdoor spaces with misting and cooling systems from Advanced Misting Systems.
Advanced Misting Systems is an industry leader for outdoor misting and backyard cooling solutions. We work hard to ensure our clients are well taken care of and we sell exceptional products. We feel it is important to not only take care of our clients but to also educate them so that they can make their buying decision with confidence and know that they have the right outdoor cooling system and misting system to exactly suit their needs.
Regardless of your budget, project size, area space or installation skill level we have options to suit you. Fully customizable outdoor patio misting kits allow you to design your ultimate cooling system for your home or commercial space. We have add-on components to help you configure the ultimate outdoor patio cooling system to maximize the cooling effects of these amazing misting kits. Check out our misting fans here, just one of many of our add-on options to help you configure the best cooling system for your outdoor spaces.
We offer our misting kits throughout the state of Florida, including but not limited to:
Orlando
St. Petersburg
Hialeah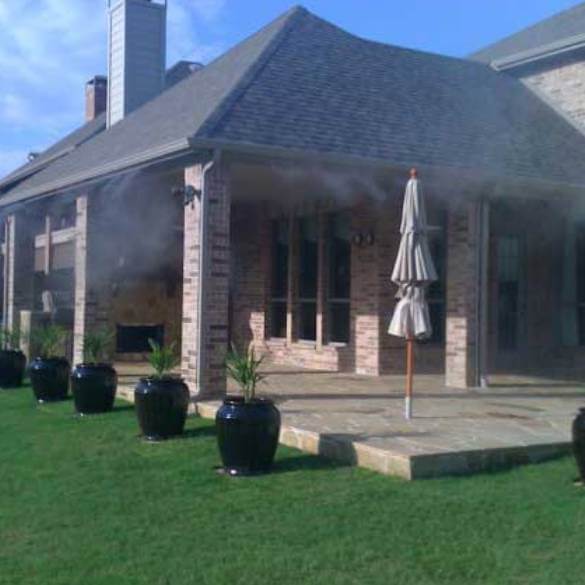 These misting kits work for any space because they allow you to adjust, adapt and configure them specifically to your needs. Check out our helpful how-to videos and our misting guide so you can build your cooling system right – right from the start. Or if you are hiring out the installation of your misting system project, you can be a step ahead of your contractor by following our misting guide; to help you know what you need for your outdoor misting system build.
We make it our mission to provide our customers with superior customer service. We want our clients informed so you can make your best decision on what you need for your misting system investment.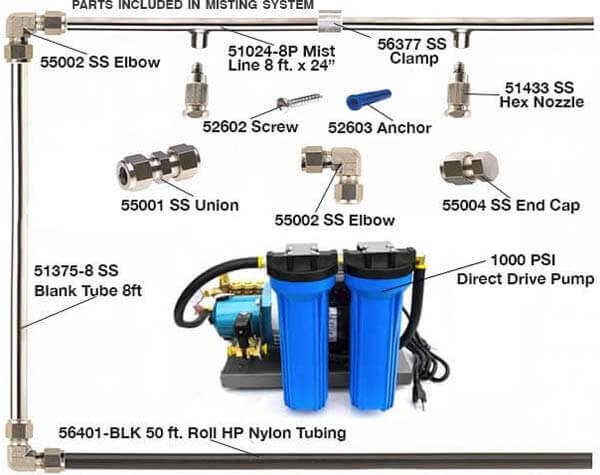 High Pressure – 1000 PSI
Starting at:
$

1,670.00
for a 30 foot system

Perfect for large backyard patios and commercial applications
Drop temperatures by up to 30 degrees
Ultra fine mist leaves zero residual moisture on floors
Life span is 25+ years
Stainless Steel, Copper and Nylon tubing options
1000 PSI pump (Direct Drive, Enclosed or Pulley)
From 30 feet to 200 feet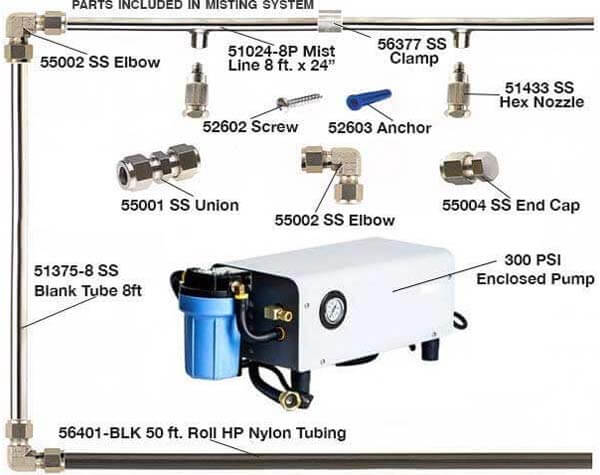 Mid Pressure – 300 PSI
Starting at:
$

1,135.00
for a 30 foot system

Ideally suited to medium backyard patios & commercial applications
Drop temperatures by up to 20 degrees
Fine mist, leaves little to no residual moisture on floors
Life span is 25+ years
Stainless Steel, Copper and Nylon tubing options
300 psi pump (Enclosed direct drive only)
From 30 feet to 90 feet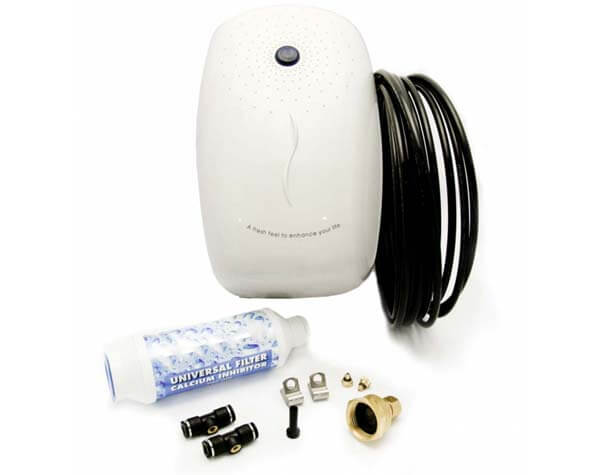 Low Pressure – 150 PSI
Starting at:
$

345.00
for a 30 foot system

Great for smaller outdoor areas on a budget
All-in-one kit
110 volts
Easy installation for DIY
Nylon Misting Kit with 150psi Pump
150 PSI pump
Available in 20 or 40 feet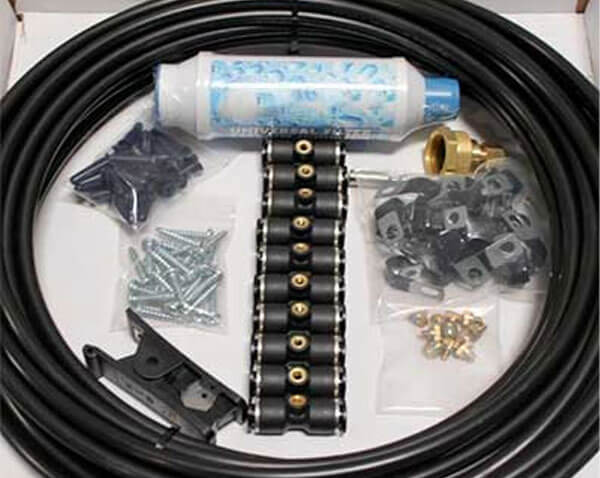 Garden Hose System
Starting at:
$

52.00
for a 30 foot system

Connect directly to your garden hose spigot
Stainless Steel, Copper, Poly & PVC options
From 10 feet to 80 feet