Misting Systems
Advanced Misting Systems provides expert advice, customer service and a great selection of easy to install low, mid & high pressure misting systems for DIY applications such as backyard patios and commercial areas.
Do-it-yourself (DIY) misting kits can make any environment cool and comfortable in dry and humid areas. Advanced Misting Systems have the experience to help connect you with the right misting kits to cool your backyard patio or commercial area.
We have several easy to install outdoor cooling systems that conveniently use standard tap water pressure, and our mist pumps increase the pressure to 1000 psi for high-pressure mist. This creates an ultra-fine mist that causes an immediate temperature reduction without leaving the area damp or uncomfortable. Mist pumps can lower the temperature by up to 30 degrees in a perfect environment or 10 to 15 degrees in high humidity areas.
You can also buy our mist kits for commercial applications. There are many places where you can build your own misting system, though the most popular application is for patios. This is a great way to improve your outdoor space and make your patio a paradise even on the hottest of summer afternoons.
All our fan mister and line system kits come pre-packaged for simple installation. To prolong your cooling system investment for many years to come, visit the accessories section of our online store to find all the parts you need to replace worn out or broken components, including nozzle heads, wiring, brackets, and mist pumps.
Enjoy our lowest price guarantee on all DIY applications of misting systems and pre-packaged kits. We also provide free shipping for any purchases over $100. If you need personal product assistance or help with a custom misting solution for your home or business, contact us online or give us a call 24/7. We would love to help you make the best decision for your outdoor cooling needs.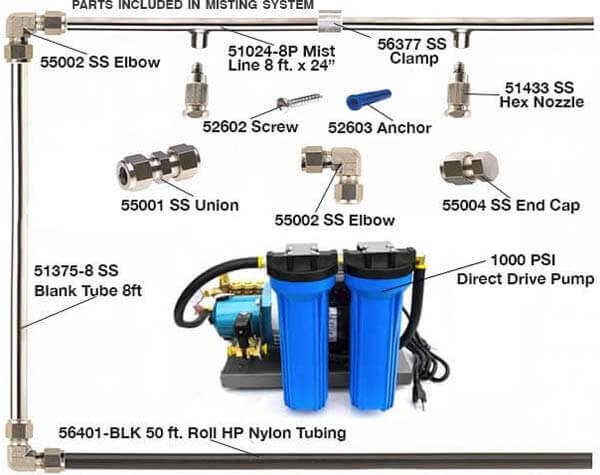 High Pressure - 1000 PSI
Starting at:
$

1,670.00
for a 30 foot system

Perfect for large backyard patios and commercial applications
Drop temperatures by up to 30 degrees
Ultra fine mist leaves zero residual moisture on floors
Life span is 25+ years
Stainless Steel, Copper and Nylon tubing options
1000 PSI pump (Direct Drive, Enclosed or Pulley)
From 30 feet to 200 feet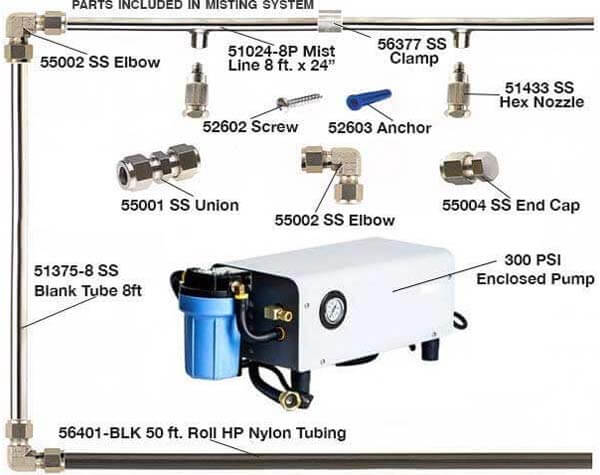 Mid Pressure - 300 PSI
Starting at:
$

1,135.00
for a 30 foot system

Ideally suited to medium backyard patios & commercial applications
Drop temperatures by up to 20 degrees
Fine mist, leaves little to no residual moisture on floors
Life span is 25+ years
Stainless Steel, Copper and Nylon tubing options
300 psi pump (Enclosed direct drive only)
From 30 feet to 90 feet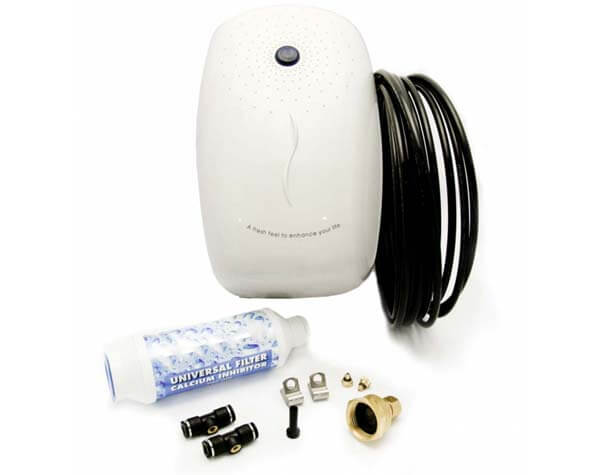 Low Pressure - 150 PSI
Starting at:
$

345.00
for a 20 foot system

Great for smaller outdoor areas on a budget
All-in-one kit
110 volts
Easy installation for DIY
Nylon Misting Kit with 150psi Pump
150 PSI pump
Available in 20 or 40 feet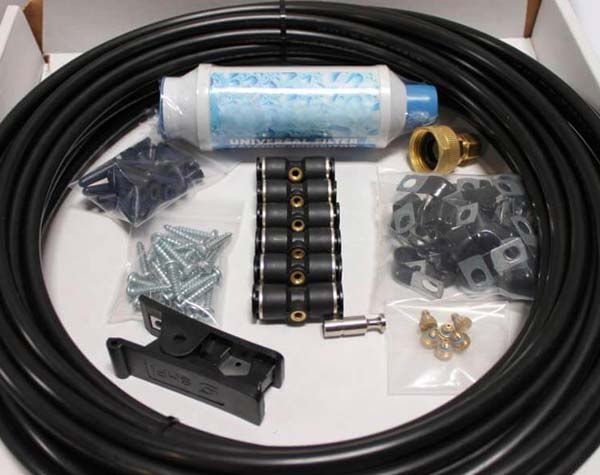 Garden Hose System
Starting at:
$

64.00

Connect directly to your garden hose spigot
Stainless Steel, Copper, Poly & PVC options
From 10 feet to 80 feet
Watching Our Videos to Learn More