Get expert advice from Advanced Misting Systems on selecting the best misting system for your patio
Get maximum enjoyment out of your outdoor patio all summer long with our diverse selection of patio misting systems. With misting coverage of an outdoor area you can expect evaporative cooling effects of up to 30 degrees Fahrenheit!
We offer low (150 PSI), mid (300 PSI) and high pressure (1000 PSI) patio misters. If you are outfitting an outdoor patio space for your family and friends to enjoy with you, or you are seeking to cool your clients in an outdoor bar or outdoor restaurant setting; evaporative cooling is your friend. By choosing Advanced Misting Systems you will be soon ensconcing your outdoor patio in a sheet of cooling mist. Using a outdoor patio misting system day or night during the hot summer months will provide you with hours upon hours of enjoyment combating the sweltering heat. Stay cool as you enjoy the summer months outside.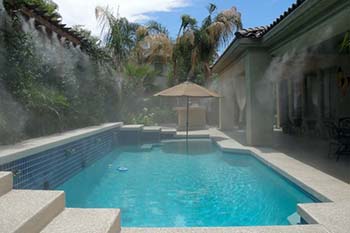 Do-It-Yourself Patio Cooling
Our misting kits are easy to install, the average DIYer can confidently outfit any patio regardless of size. Highly customizable options give you flexibility to design and outfit your patio with the best outdoor patio misting system for your specific needs. Bypass the professional installation fees and install one of our DIY friendly patio mister kits. Most pre-packaged kits have simple instructions with the easy-to-install set-up.Our backyard patio misting kits include all the parts needed to cool your outdoor area, including:
High-pressure misting pump
Misting tubing
Water filtration system
Brass nozzles
Connectors and brackets
And all misting parts needed!
Misting System Experts Only a Call Away
Reach out to us should you need help deciding on the best misting system for your patio, give Mike a call at 760-779-1352. Mike has 20+ years experience in the misting industry and he will answer any questions, no matter how inconsequential or complex. As a DIYer, if it's important enough for you to be wondering, just ask. Mike is happy to answer all your questions about choosing the best patio misting systems to cool your outdoor area.
Start by selecting the pressure of your kit:
If you are ready to purchase a misting system, start by choosing either a high, mid or low pressure system – keep in mind the higher the pressure, the stronger the evaporative cooling effect. From there you will customize the misting kit to your specifications.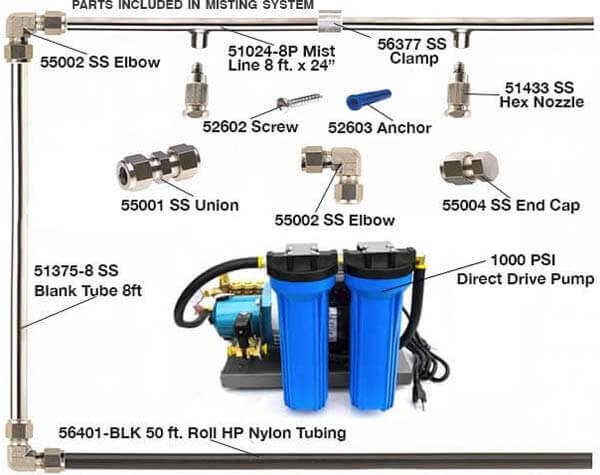 High Pressure – 1000 PSI
Starting at:
$

1,670.00
for a 30 foot system

Stainless Steel, Copper and Nylon tubing options
1000 PSI pump (Direct Drive, Enclosed or Pulley)
From 30 feet to 200 feet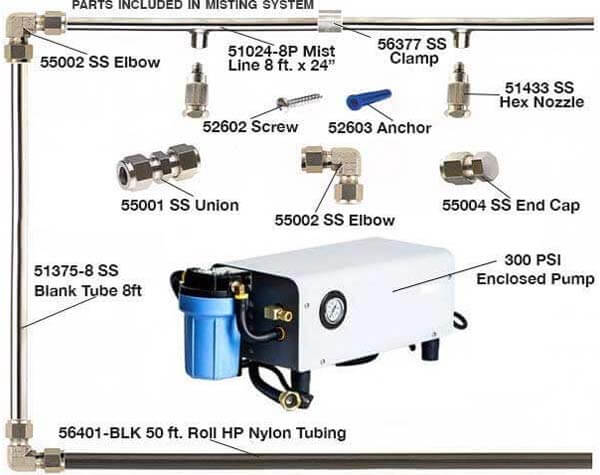 Mid Pressure – 300 PSI
Starting at:
$

1,135.00
for a 30 foot system

Stainless Steel, Copper and Nylon tubing options
300 PSI pump (Direct Drive, Enclosed or Pulley)
From 30 feet to 90 feet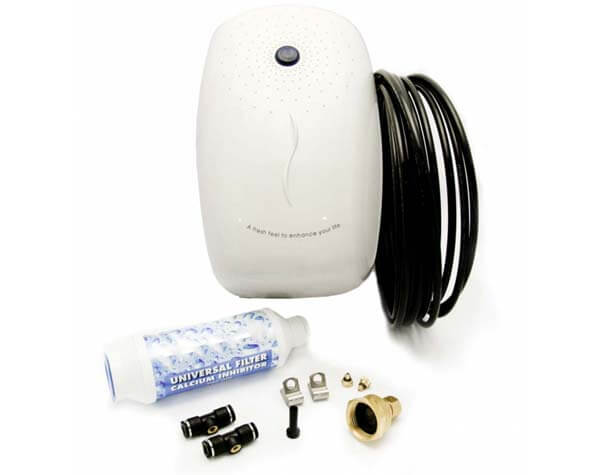 Low Pressure – 150 PSI
Starting at:
$

345.00
for a 30 foot system

Nylon Misting Kit with 150 PSI Pump
Available in 20 or 40 feet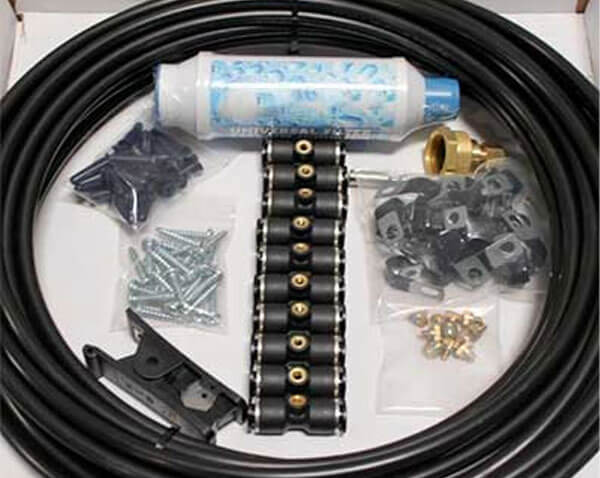 Garden Hose System
Starting at:
$

52.00
for a 30 foot system

Connect directly to your garden hose spigot
Stainless Steel, Copper, Poly & PVC options
From 10 feet to 80 feet