Misting Fans
Our patio misting systems are great for:
Backyards
Patios
Walkways
Barnyards
Athletic fields
And so much more!
We carry portable cooling fans to keep you cool with a refreshing fine mist of water wherever you go, from your backyard to your business. Our mobile patio misting fans are available in several sizes, from small, personal fans to heavy-duty, 48" outdoor misting fans.
With one of our portable outdoor misting fans, you can get cool relief and humidity control wherever you need it. Cooling fans can lower temperatures as much as 30 degrees, allowing you to be more comfortable in hot weather.
You'll be impressed with our selection of patio misting fans for sale. Advanced Misting Systems carries the top names in cooling fans, including: Aero Mist, Aqua Breeze, Aquality, TPI, J&D Mfg., KoolFog, Cool Draft Blue, Mobile One and Port-A-Cool.
We also carry several smaller models of personal cooling fans. With your own personal mister, you can enjoy the refreshment of cool water whenever you'd like. Our mobile outdoor misting fans give you the flexibility to work and play outdoors, even when it's blazing outside. Check out our assortment of patio misting fans. Our misting system, misting fan / cooling fan, and evaporative cooler / swamp cooler can be useful as a cooling system for the following:
Backyard Misting Systems
Patio Misting System
Portable Cooling Fan
Barn Cooling
Horse Cooling
Misting Fan System With
1000 PSI Pump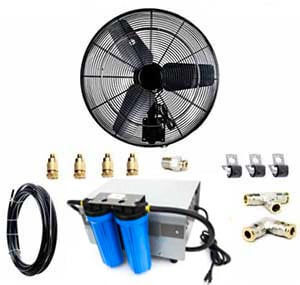 18", 24" or 30" fan sizes
Choose between 1-12 fans
1000 PSI pump (Direct Drive, Enclose, Pulley or VFD)
Starting at:
$

1,828.00
for a 18" fan kit
Misting Fan System With
300 PSI Pump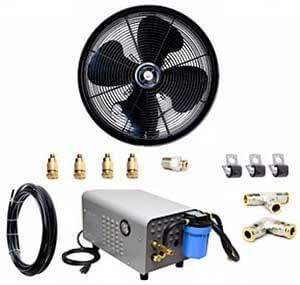 18" or 24" fans sizes
Choose between 1-8 fans
300 PSI pump
18Starting at:
$

968.00
for a 18" fan system
Misting Fan System With
150 PSI Pump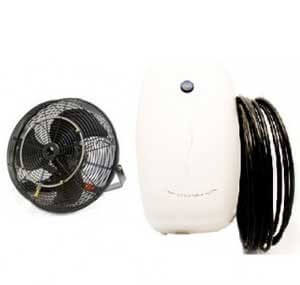 18" fan size
Choose between 1 & 6 fans
150 PSI pump
Starting at:
$

603.00
for a 18" fan system