Restaurant Misting Systems
Outdoor patio misters are the best way to offer a cool, comfortable dining atmosphere
Outdoor misting systems are the gold standard when it comes to providing an enjoyable open-air dining experience for restaurant patrons. Blue skies and sunshine beckon guests outdoors to enjoy meals on the patio. Enjoying a cool breeze while walking outside and sitting in direct sunlight on a patio, however, are two different experiences. With an outdoor misting system you can provide a cool, comfortable atmosphere for your guests so they can enjoy their meals as much as they enjoy the beautiful weather. Our patio misters can keep an area cool even when temperatures rise above 100 degrees and can help keep an area as much as 30°F cooler.
Restaurant misting systems change the atmosphere of your patio for the better. Guests will not only be cool, but our anti-drop systems ensure they will be dry as well! This is because our patio misters consist of a 1,000-psi pump system that utilizes flash-evaporation to cool an area without leaving any residual moisture in the air. Advanced Misting Systems offers high quality cooling fans and outdoor misting systems for a variety of applications as well as:
30-day money back guarantee on all products
Portable, easy-to-transport misting systems
Extremely competitive pricing
Largest inventory of portable cooling systems online
Our top-of-the-line patio misters absorb heat with a fine mist that provides a comfortable and cool dining atmosphere. Each fan is capable of producing six cooling tons of evaporative cooling for long-lasting relief from the heat. We also provide stainless steel and low pressure misting rings along with various other accessories and supplies to keep your restaurant misting system working at peak performance.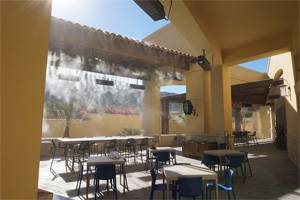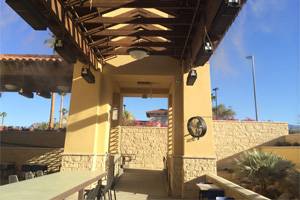 If you need a reliable, high quality outdoor misting system, take a look at the patio misters in our catalog. Your customers will love the cool, comfortable dining atmosphere. Enjoy free shipping on orders over $100.00!