Misting Systems for Hotels
As a first-rate supplier, Advanced Misting System offers top-quality misting systems for hotels of all kinds and sizes. As a hotelier, your mission is to provide an exceptional guest experience that leaves a lasting impression. Comfort, ambiance, and customer satisfaction are at the heart of your services, and Advanced Misting Systems, our team offers a solution to enhance these elements, especially in outdoor areas. Our state-of-the-art mist cooling systems are not only an innovative way to help regulate outdoor temperatures, but they also contribute to a more elegant and comfortable environment for your employees as well as your guests.
Creating a Comfortable Environment with Temperature Control
The scorching heat of summer can often be unbearable, driving guests indoors and away from the beautiful outdoor facilities your hotel has to offer. At Advanced Misting Systems, we help ensure that your guests and employees can comfortably enjoy all your amenities – regardless of the warmth of the summer season.
Our effective misting systems for hotels create a fine mist that evaporates before it touches surfaces. This aids in reducing the ambient temperature of an outdoor area, typically by up to 30 degrees. Plus, this highly efficient evaporative cooling method does not leave behind wet residue, allowing you to maintain a cooler and more comfortable environment for guests to enjoy.
Enhancing Ambiance for a Memorable Stay
Ambiance is a crucial part of any guest's experience at a hotel, resort, or even motel. Fortunately, at Advanced Misting Systems, our mist cooling systems add an element of elegance and sophistication to practically any outdoor setting, such as poolsides, patios, and dining areas. The soft mist provides an inviting and relaxing backdrop, making the experience for guests feel more special and memorable, especially when it allows them to enjoy the outdoors without discomfort.
Prioritizing Customer Satisfaction
At Advanced Misting Systems, we believe in going beyond just cooling. Our misting systems for hotels also act as an efficient method for dust and insect control. By creating an environment unfavorable for insects, guests can enjoy a more undisturbed experience – thereby increasing their satisfaction and the likelihood of return visits. Furthermore, the mist particles generated by our systems bind with dust and pollen in the air, effectively helping to reduce allergens and maintain cleaner air for guests and employees to breathe.
Energy Efficiency – Cooling with a Conscience
In today's world, every industry must prioritize sustainability, and the hospitality industry is no exception. Traditional cooling methods, such as air conditioning, are often energy-intensive and environmentally harmful, especially for outdoor spaces. Advanced Misting Systems, however, offers an energy-efficient alternative. By using the power of evaporation for cooling, our mist systems significantly help reduce energy consumption and carbon footprint compared to standard cooling methods for exterior areas.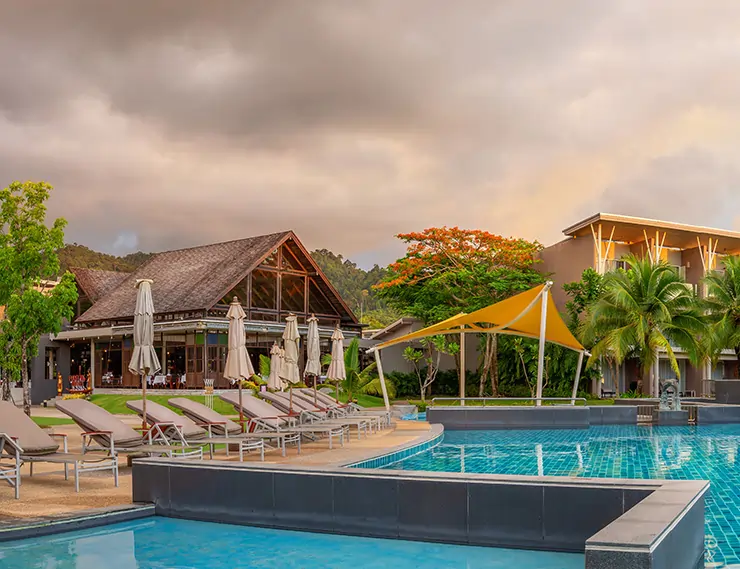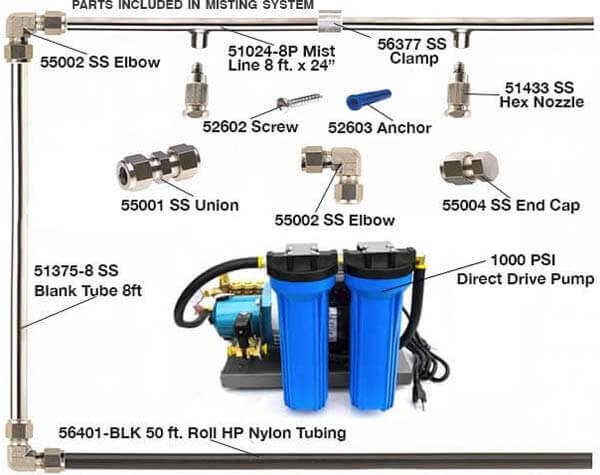 High Pressure - 1000 PSI
Starting at:
$

1,670.00
for a 30 foot system

Stainless Steel, Copper and Nylon tubing options
1000 PSI pump (Direct Drive, Enclosed or Pulley)
From 30 feet to 200 feet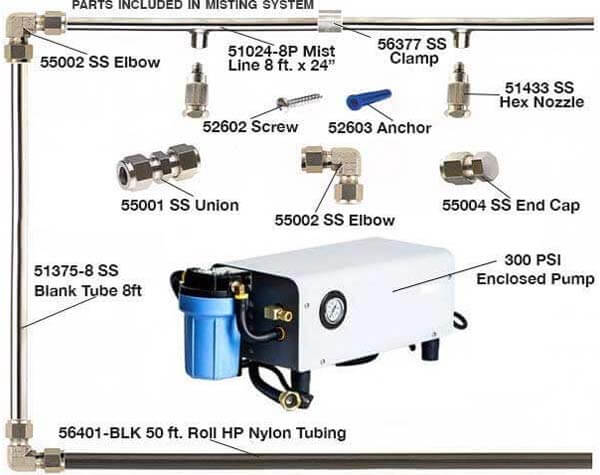 Mid Pressure - 300 PSI
Starting at:
$

1,135.00
for a 30 foot system

Stainless Steel, Copper and Nylon tubing options
300 PSI pump (Direct Drive, Enclosed or Pulley)
From 30 feet to 90 feet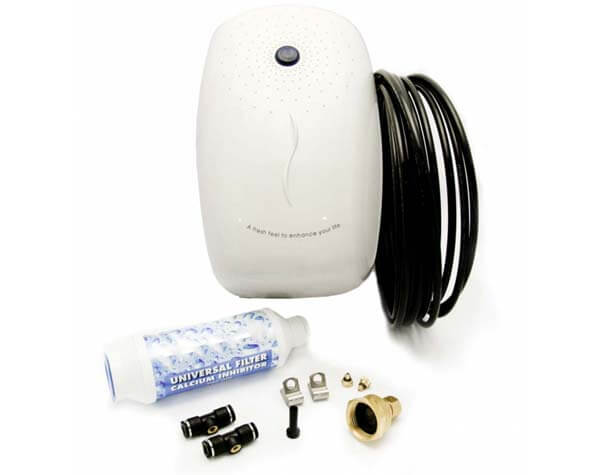 Low Pressure - 150 PSI
Starting at:
$

345.00
for a 30 foot system

Nylon Misting Kit with 150 PSI Pump
Available in 20 or 40 feet
Why Choose Advanced Misting Systems?
Our decades of experience in the field, coupled with our commitment to customer service, make us at Advanced Misting Systems the ideal partner for your hotel's outdoor cooling needs. We offer solutions to help meet the unique requirements of our clients. Our team of expert technicians ensures an efficient sales experience, minimizing downtime and disruptions.
Additionally, our mist cooling kits and fans are built to last. Our systems use top-quality materials, ensuring our misting kits can withstand the elements and continue to perform optimally over time. Moreover, we understand that each hotel is unique, and our misting systems can be tailored to your outdoor areas as well as aesthetics.
Ultimately, we value your trust, and we are committed to providing misting systems that help enhance your guests' experience.
Contact Us Today to Learn More About Our Misting Systems for Hotels!
Transform your outdoor spaces into more relaxing, inviting, and comfortable areas that your guests will love with misting systems for hotels from Advanced Misting Systems. By investing in our high-quality mist cooling systems, you are not only upgrading your hotel's amenities but also aiding in enriching your guests' overall experience. Contact our team today and discover the difference that Advanced Misting Systems can make for your hotel!