In Texas when you are looking for a way to cool off your backyard patio in a big way, Advanced Misting Systems can help you reduce the heat by 30 degrees with our misting system DIY kits. With all of the assorted climates throughout the great state of Texas we carry all kinds of misting and cooling systems to suit all budgets, spaces and climate conditions, from the very humid to the very arid regions of Texas, and everything in between.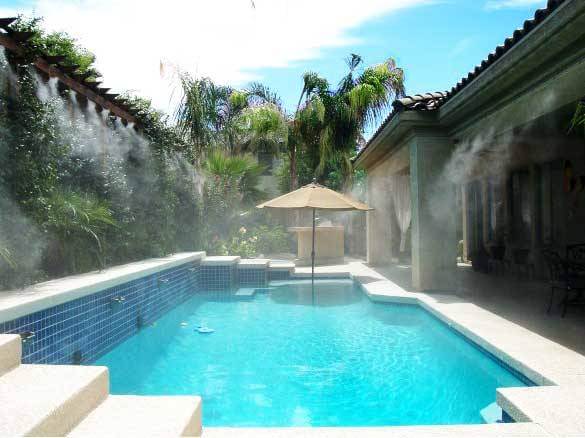 We have what you need to cool off your pool area, outdoor patio, deck, balcony, and more.
Our systems can be installed within a few hours, and yet with a good maintenance schedule they can last decades, providing cooling mist where you can enjoy your outdoor space in comfort year after year, even during the high summer temperatures.
Advanced Misting Systems offers DIY misting kits that are easily customized, so that you can design your perfect cooling system for your garden, backyard, patio, pool or spa areas. We also feature a wide range of add-on components to help you configure a cooling system that meets even the most complex of needs. Our misting fans allow you to target specific areas for maximum cooling.
We pride ourselves on our exceptional knowledge and customer service in the outdoor misting systems industry. Mike Workman is our cooling and misting expert and he uses his knowledge and skill to help our customers find the best system for their application. Mike is happy to help answer questions or even designing the most effective cooling system for residential or commercial use.
We offer our misting kits throughout the state of Texas, including but not limited to: Texas
San Antonio
Fort Worth
El Paso
Advanced Misting Systems where we strive to educate and enhance our client's knowledge and experience, so if you are a novice DIYer or a seasoned professional misting system installer we are here to help.
Check out our helpful how-to videos and our misting guide so you can optimize your outdoor space with a complete cooling and misting system that delivers lower temperatures for you to enjoy.
We make it our mission at Advanced Misting Systems to provide exceptional products and superior customer service; educating and informing our clients so they can make the right choice for their patio misting system investment. We are here to help.
DIY cool refreshing misting systems designed to fit your space space requirements, cooling demands and budget.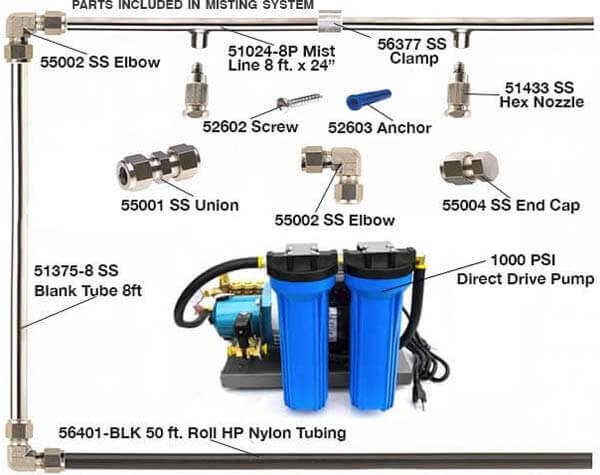 High Pressure – 1000 PSI
Starting at:
$

1,670.00
for a 30 foot system

Perfect for large backyard patios and commercial applications
Drop temperatures by up to 30 degrees
Ultra fine mist leaves zero residual moisture on floors
Life span is 25+ years
Stainless Steel, Copper and Nylon tubing options
1000 PSI pump (Direct Drive, Enclosed or Pulley)
From 30 feet to 200 feet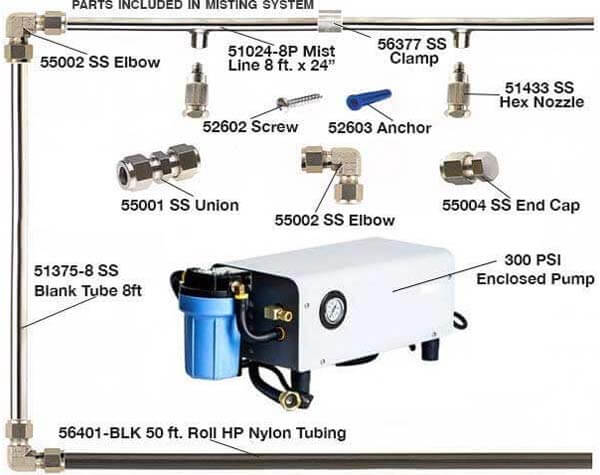 Mid Pressure – 300 PSI
Starting at:
$

1,135.00
for a 30 foot system

Ideally suited to medium backyard patios & commercial applications
Drop temperatures by up to 20 degrees
Fine mist, leaves little to no residual moisture on floors
Life span is 25+ years
Stainless Steel, Copper and Nylon tubing options
300 psi pump (Enclosed direct drive only)
From 30 feet to 90 feet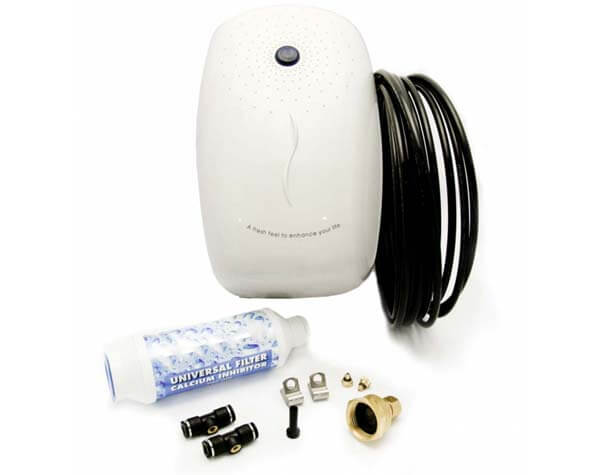 Low Pressure – 150 PSI
Starting at:
$

345.00
for a 30 foot system

Great for smaller outdoor areas on a budget
All-in-one kit
110 volts
Easy installation for DIY
Nylon Misting Kit with 150psi Pump
150 PSI pump
Available in 20 or 40 feet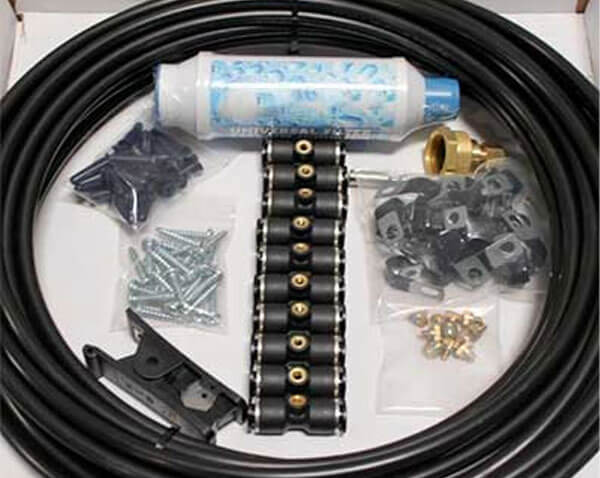 Garden Hose System
Starting at:
$

52.00
for a 30 foot system

Connect directly to your garden hose spigot
Stainless Steel, Copper, Poly & PVC options
From 10 feet to 80 feet