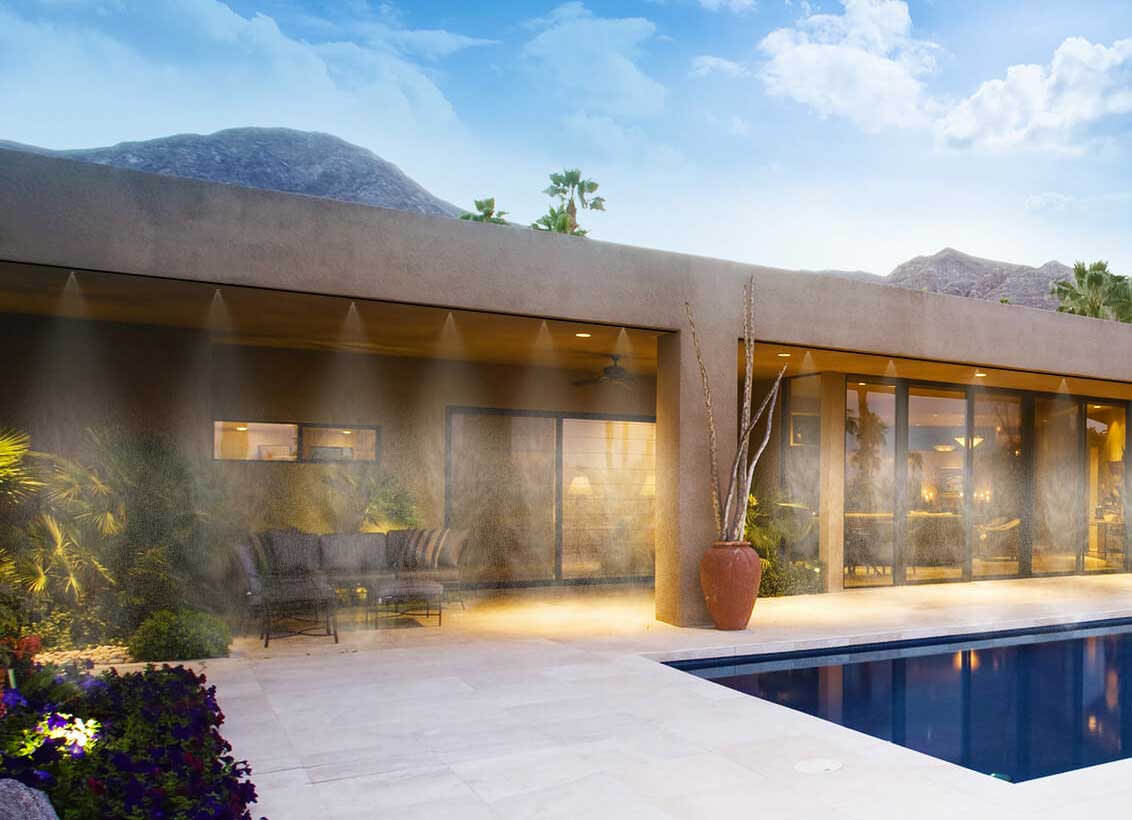 A restaurant outdoor patio misting system is a valuable investment that can help keep your customers cool in the summer while also improving airflow. Offering comfortable outdoor seating is especially important in light of the ongoing COVID-19 public health crisis, which has made social distancing a top priority.
In the age of COVID, a patio misting system allows you to prioritize diners' health and safely keep your restaurant open for business. Advanced Misting Systems of southern California, provides the quality misting equipment you need to keep your guests safe and comfy. While we ship our products nationwide, we are based in southern California, and further offer expert installation services in the surrounding areas.
We provide a diversity of product options, allowing you to tailor your misting system order specifically tailored to your eatery's size and your business budget. Solutions are available for diverse price points. Our team can recommend the configuration that best suits your needs and provide customized installation to promote ideal cooling and airflow.
Read on to find out why restaurant outdoor patio cooling is an investment worth making.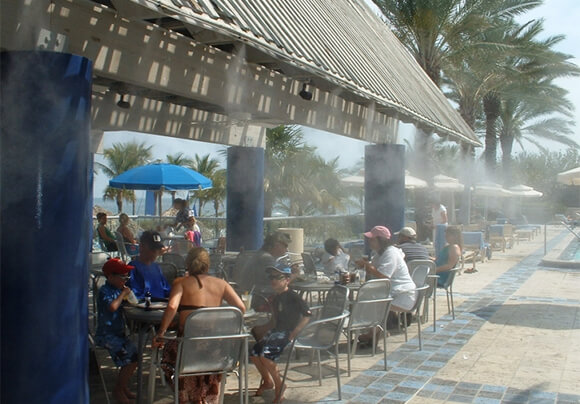 Benefits of a Restaurant Outdoor Patio Misting System
A patio misting system benefits you as a restaurant owner and your customers, too. Here's how.
Benefits for Your Customers
Alfresco dining allows people to eat their favorite foods in the open air. It's a great treat — unless it's sweltering hot. High temperatures and lack of airflow can make outdoor dining unpleasant. A professional misting system disperses tiny droplets of water that gently refresh diners without leaving them soaked. Complete your set up with misting fans to further benefit your clients by generating a gentle cooling breeze.
Then, there's the coronavirus to consider. COVID-19 has changed every facet of modern life, from how we shop to where we eat. When it comes to dining, people are increasingly heading outdoors. Why? Airflow is greater outside, which helps to minimize viral transmission. Many diners thus feel more comfortable eating outside.
People don't want to get sick, but they also don't want to sit around at home. Diners who have the option to eat out safely by sitting on a patio or terrace will appreciate a misting system that boosts ventilation. A cooling system thus enhances comfort both physically and mentally. Restaurant guests keep cool and enjoy greater airflow — and can stress less about COVID.
Benefits for Business Owners
Restaurants that want to stay open throughout 2021 while keeping customers safe and reducing coronavirus infection risk are prioritizing outdoor seating. Why? Savvy restaurant-owners recognize the importance of providing a secure environment where people can continue to enjoy restaurant dining without worrying about the disease.
In many states, government restrictions regarding dining are less stringent when it comes to outdoor seating. Boosting outdoor capacity can thus help you keep your business open, minimizing COVID-related profit losses. After 2020, when many eateries were forced to shutter or restrict services, you're probably eager to avoid additional losses.
In light of COVID, some states have issued new guidelines for outdoor dining. Take California, for example. The state's guidance for restaurants specifies that eateries must "Establish an effective heat illness prevention plan." This is an important point, especially when the dog days of summer arrive! You don't want diners overheating and feeling poorly as a result. A misting system can help in this regard, by significantly reducing the ambient temperatures and by providing a cooling breeze with the addition of misting fans.
Benefit for the Community
By taking steps to keep your restaurant open, you are also benefiting the broader community. People are more eager than ever to support local businesses in the wake of COVID. Small businesses have been especially hard-hit economically. Keeping your doors open is a sign of resilience to your community and helps keep the area's economy going, as you provide valuable jobs to local people.
Local governments recognize this fact and are providing incentives to help business-owners maintain staying in business. In California, Governor Gavin Newsom has announced significant assistance for businesses impacted by coronavirus, including minimizing the fees incurred by restaurants and bars. Across the country, other governors are taking similar steps. Federal relief bills are also in place.
The coronavirus situation is continuously evolving. Check out what tax incentives and relief packages may be available in your area. Also, look out for the latest guidelines that impact restaurants and dining restrictions. Having all the information in hand allows you to plan for the future of your business. By investing in an outdoor patio dining misting system, it enables you to seat clients in comfort, allowing for social distancing, providing them a much needed avenue of getting out and socializing, maintaining your revenu flow and lets you keep your team employed.
Expert Installation of Outdoor Cooling Systems
A restaurant outdoor misting system is a significant investment. You want to make sure you are getting a top-quality product that's well configured, ensuring you get the most bang for your buck. Installation is also a consideration. There's no point paying top dollar for a great system if it's installed incorrectly or in a way that impedes efficiency.
That's where we come in. Advanced Misting Systems meets the critical criteria you want in an outdoor dining misting system, including expert installation for clients in the southern California area. While you can technically DIY install your misting system, this can result in subpar cooling and inefficiencies. Our skilled technicians offer expert installation services, allowing for a streamlined and stress-free setup.
We have more than two decades of experience in the outdoor cooling system business. Our expert team will tailor your misting system's installation to your business space. Whether you have a small patio with just a few tables or a large dining terrace capable of seating hundreds, we have you covered. No size is too large or too small for us.
We don't believe in one-size-fits-all solutions. We provide tailor-made misting systems that are adapted to your business size, budget, and needs. This allows us to cater to a diversity of price points.
Finally, if you have questions about your system or something goes wrong, you want to be sure you have someone to turn to. We pride ourselves on our top-quality service. Our client's satisfaction is our top priority.
Discover more benefits of our restaurant outdoor patio misting systems.
Schedule Your Outdoor Misting System Installation Appointment
Advanced Misting Systems is headquartered in Chino, CA. We cater to clients nationwide. We further offer expert installation services in the areas surrounding our headquarters. Trust in us for top-quality products and excellent customer care.
Contact us today to discuss your restaurant's outdoor patio cooling needs.