If it's a struggle to entertain outdoors during the heat of summer, an outdoor patio misting system can help reduce the temperature of your backyard entertaining space.
Have you ever wanted to entertain or spend time outdoors during the summer, but the heat interferes? It can be quite difficult to sit back and enjoy summer in your backyard when it is sweltering hot outside and you're sweating and miserable. On top of sweating, you're constantly having to swat away insects, while you might be coughing and sneezing from breathing in pollen. None of this is what you want to deal with while enjoying the summer outdoors, which is where a patio misting system can greatly help out.
An outdoor misting system can turn your outdoor experience on the patio into a paradise. A patio cooling system uses the evaporative effects of cooling to lower temperatures in its area by as much as 30 degrees Fahrenheit. So a blistering hot summer's day can suddenly go to feeling like you're relaxing indoors with the air conditioning turned on, only you get the benefit of a fresh breeze and your garden views. And our misting system is much more energy and water efficient than an air conditioner, too. Cooling mist is created by simply forcing water through special nozzles at a high pressure, which can dramatically improve the outdoor experience of you, your friends, family, and whoever else you have over. Check out our popular patio misting systems.
Turning your outdoor space into a comfortable living or dining area with a patio misting, gives you better entertainment options, giving you a change of scenery without being stuck indoors any longer. Let's go over some different ways in which an outdoor misting cooling system can make your summertime outside a truly enjoyable experience.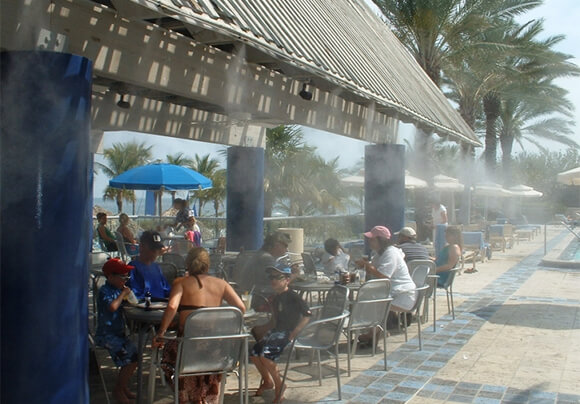 An Outside Misting System Can Keep Family, Friends & Guests Cool During The Summer
The last thing you want is to have family, friends, or other guests in your backyard and have them feeling hot, sweaty, and uncomfortable. If this happens, the positive experience you had envisioned can quickly turn into something negative as people express their discomfort. People you're spending time with outside simply don't want to feel hot, sweaty, dehydrated, or uncomfortable. As much as they want to be spending time with you and having fun, this won't be possible if all this is happening.
A misting system can change all of this. The fine mist being created won't make anyone feel damp, only pleasantly cool. Essentially, it will be like having air conditioning outside. So you'll be able to sit back and relax with friends and family on the patio while talking, catching up, and making enjoyable new memories.
A Patio Cooling System Is Amazing For Outdoor Events & Entertainment
Having a backyard BBQ can be even more of a fantastic experience for friends and family when they are ensconced in a comfortable and cooling mist. Everyone will be able to simply enjoy great food, company and have their favorite drink without being bothered by the summer heat. Additionally, a misting system also repels insects. Bugs simply don't want to fly around in a mist, so you won't have bugs flying around and annoying your guests or trying to land on your food. Yet another great thing about a misting system is that the fine mist attaches to dust particles and pollen and brings them down to the ground. Because of this, you and your guests won't have to breathe these allergens in, it will greatly reduce these airborne irritants so there will be less coughing and sneezing. An outdoor patio misting system from Advanced Misting Systems will indeed help you create a highly comfortable space for everyone to enjoy!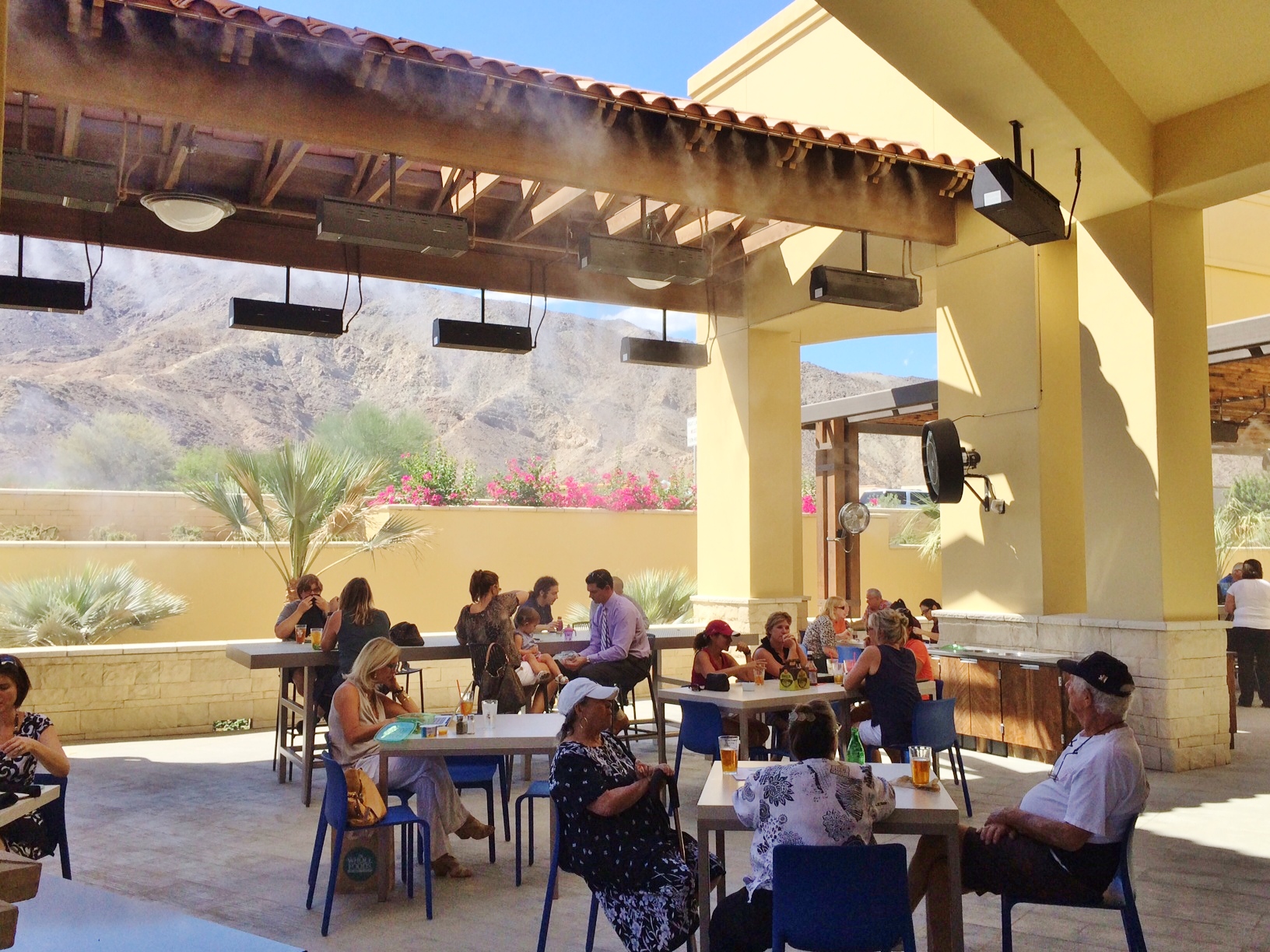 An Outside Misting System Is Great For Kid Games & Lawn Parties
Whether you want to spend time with your kids and family playing games like mini golf, Jenga, Checkers, Bocce Ball, ring tossing, or any other fun activity, an outside misting system can make the experience much more delightful. Rather than having to deal with your skin feeling hot and sweaty, you'll be able to focus on the game and having fun conversations. Just think about all the fun games you'll be able to play outdoors with your family this summer; by extending your living space to the backyard or patio with a cooling misting system!
A backyard misting system can also be great for lawn parties. If you're having friends over and have drinks and food out, everyone will be able to enjoy themselves while chatting with one another and having a fun time. Additionally, the mist will keep away insects and pollen, which can certainly be a pain to deal with when outdoors. The mist will greatly elevate everyone's comfort level and allow them to enjoy their time at your party.
Your Very Own Patio Mist Cooling System Is Just A Phone Call Away
Here at Advanced Misting Systems, we have over 20 years of experience helping out people just like yourself install a patio misting system. We offer a customizable solution suited for your needs. We also provide affordable pricing and answer any questions you may have, no matter how simple or complex.
Staying cool outdoors doesn't have to be difficult any longer! Contact us today and our expert staff will be more than happy to help you pick out a patio misting system to turn your summers outdoors into a paradise.