Advanced Systems Co. Mobile Misting Fan Trailers!
Excessive heat, gear and equipment can cause a firefighters' core body temperature to reach 104 and Higher! Under such intense conditions, effective rehab is a must!
Firefighting is a tough job – work so physically intense that it demands every ounce of energy a firefighter can muster… and sometimes it takes it toll! Statistics show that most firefighter injuries are caused by physical stress resulting from prolonged exposure to heat.
In a study dealing with firefighter stress, the US Coast Guard reported that during interior firefighting operations, a firefighter's body core temperature often reaches 104 degrees (F).
Simply stated Firefighter Rehab is designed to ensure that the physical and mental well being of members operating at the scene of an emergency (or a training exercise) don't deteriorate to the point where it affects the safety of any other members. After all, "stressed out" is not a good thing when you're working at America's most dangerous job.
Advanced Systems Co. is capable of building custom mobile portable misting trailer to keep firefighters cool during rehab and beat heat stress.
Mobile Misting Fan Trailers

Portable Misting/Fog Fans

Circulation Fans

Existing Fan Retrofit Mist Rings
Let us build a custom cooling system for you.
Over the last 10 years, the fire service has been averaging 95,000 – 105,000 annual injuries. Over one-half have been injuries that occurred during emergency operations.
Our goal is to provide a cost effective rehab mist cooling fan used in conjunction with an effective protocol designed to cool, hydrate and protect firefighters from the hazards of heat stress.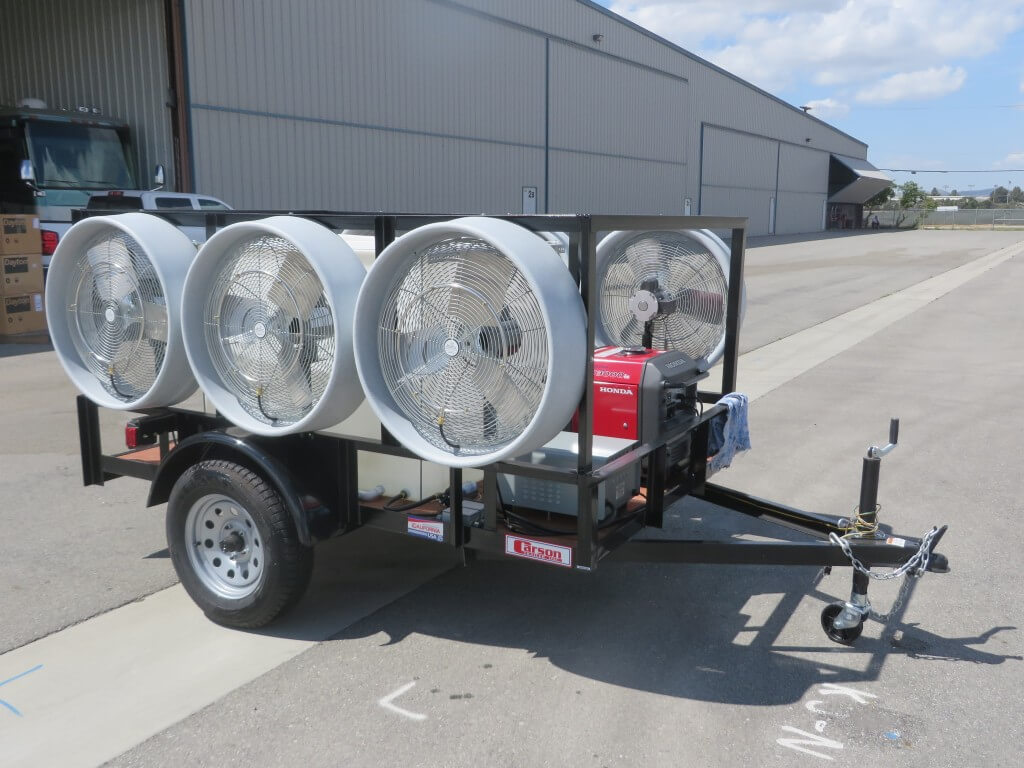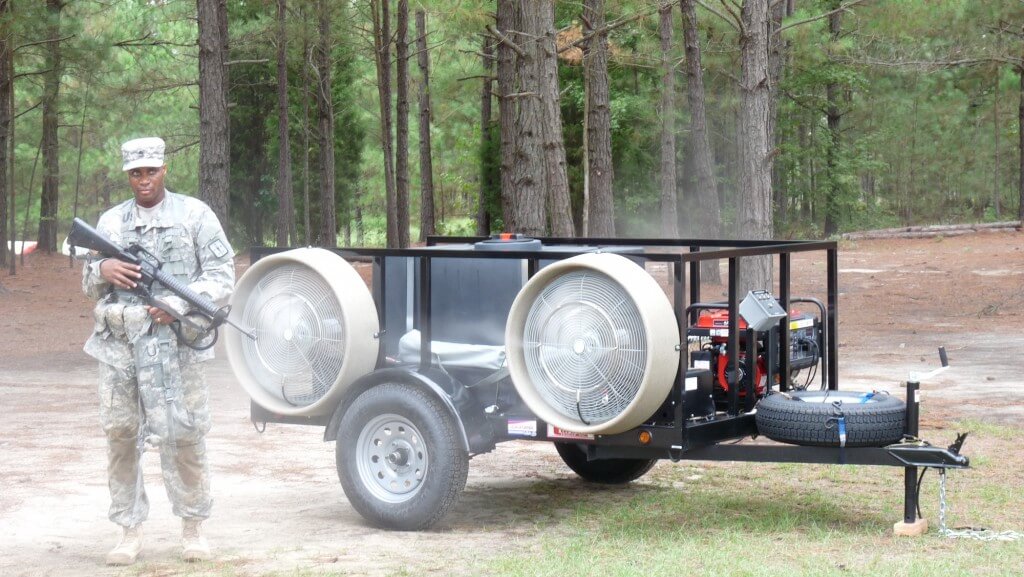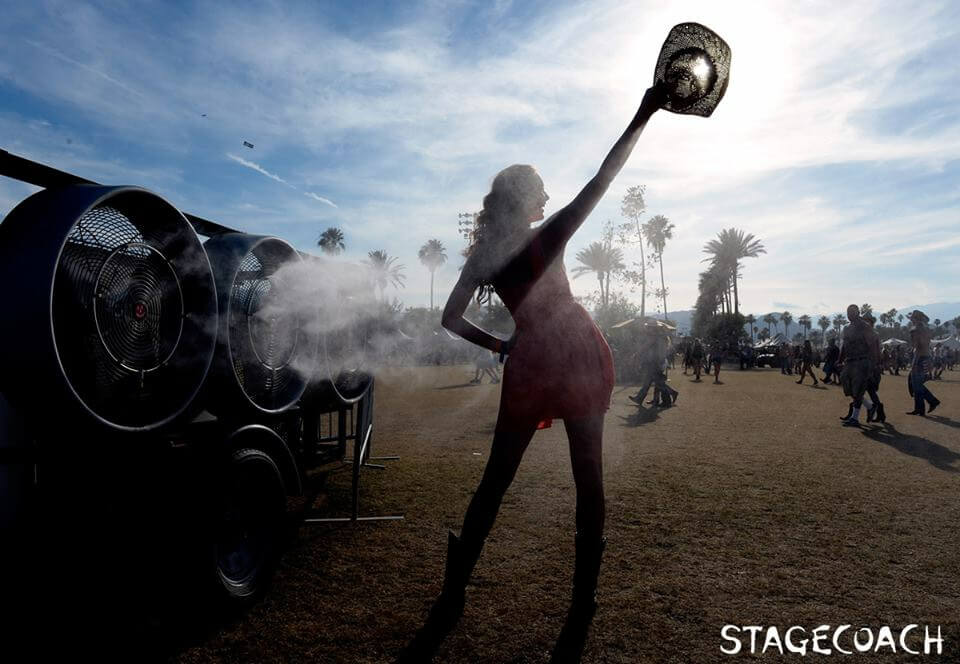 ---
Retrofit Kits
The Advanced Systems Misting Ring, when attached to any 16″ or larger blower, instantly creates a cool mist envelope, lowering the overall temperature of the surrounding air. Ideal for firefighter rehab. Can also be used to knock down dust and other suspended particles. Three nozzle sizes available with flow rates from 0.5 to 5.8 gallons-per-hour (1.1 is standard).
---
PM-18S 18″ Self Contained Power Mister Fan (Hand Carry)
Self contained misting fan with water pumped from a 10 gallon cooler.
Water will last up to 8 hours!
UL Approved
Meets OSHA Standards
1-Year Limited Warranty
---
18″ Mid Pressure High Velocity Mist Cooling Fan
Item #CDMP1840GRY
New 18″ High Velocity Fan
Four position, 3-speed fan (off, low, medium, and high)
Stationary Fan Mount
New 4 nozzle stainless steel misting ring.
New 180 psi high efficiency pump produces mid-pressure fog
New custom nozzles by Cool Draft.
New wire reinforced pickup line will not kink.
110 Volt System; 3.4 amp draw.
15 hour run time with cooler case
New Cooler Case Fan stores inside when not in use, for optimal protection.
Built tough for rough handling and long life by us at Cool Draft.
12′ GFCI power cord; 110 amps
Draws 3.4 amps total
Dims: 64 tall x 24 wide x 18 deep (fan on cooler)
Dims: 30 x 24 x 18 (fan in cooler) 34 lbs.
Made in the USA with both foreign and domestic components
---
18″ High Pressure High Velocity Misting Fan (High Pressure 1000 PSI) Item #CDHP1840GRY
Power: 110 Volt / 60 Hz; 3.8 Amps
Fan Output (3 Speeds): 6825/7355/8060 CFM
Stationary Fan Mount
Tank Size: Up to 40 gallons
Pump Working Pressure: 1000 PSI
New HP pulse dampening misting hose
Fan Blades: Anodized Aluminum
Fan Size: 18 inches
Misting Ring: Stainless Steel
Nozzles: 4 stainless steel with anti-drips
Noise Level (High Speed): 42dba
Base & Fan Weight: 38 pounds
Power Cord: 10 feet, grounded with GFCI Plug
Packaging Dimensions: 32 x 24 x 17 inches (fan in cooler)
Run Time: 12 hours
Spare Nozzles Available
Made in the USA with both foreign and domestic components