Many restaurant managers and bar owners have chosen Advanced Misting Systems to provide unique cooling solutions for their locations across the nation. Today we'd like to share with you some inside secrets to help you boost your revenue! The main idea is to think like your customer. What do they want to see, feel and experience at your restaurant or bar?
Add Patio Space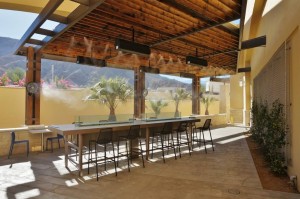 Every restaurant or bar can get stuffy at times. Allow your patrons to "escape for fresh air" to a patio space. Many, however, elect to use these spaces for smoking. Be aware of your city's smoking laws to ensure your outdoor space is compliant with these laws to assure every patron is comfortable.
Adding onto your restaurant or bar space does require city inspections to ensure your structure is to code, so be aware of building codes and sound construction to avoid any failed inspections. The best way to achieve this is go with a licensed and bonded contractor for your expansion project.
Furnish Appropriately
For both indoor and outside spaces, choose your furniture and décor appropriately. Allow clearance between tables for passing. If guests are too close together, they feel like they lack intimacy and may not stay longer to enjoy dessert or that extra beverage.
For outdoor space furniture, consider the elements. Choose pieces that will withstand heavy sun exposure and have sturdy construction if a heavy wind passes through. If you are a bar owner, you will want to choose outdoor furniture meant for community building and networking, such as long narrow tables for resting drinks on, or a circle of chairs for intimate, but open conversation.
Invest in Custom Heating and Cooling Solutions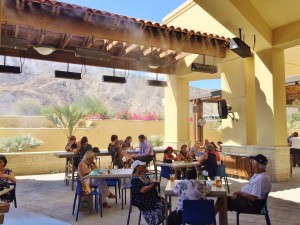 Restaurants and bars with active kitchens can use up quite a bit of funds for heating and cooling. In order to keep the kitchens cool, your dining space may be overly cold, and if your kitchen is open to your dining spaces, people may feel overheated. Not to mention your patio spaces. Depending on the season, you will have some who will avoid your patio space if there is not adequate heating and cooling available in these areas. For cooling, we recommend targeting key areas throughout your restaurant with vent fans, evaporative cooling and patio misting systems. When it is necessary, try spot heating with infared heaters. All the options listed are energy efficient and can help prolong your current air conditioning and heating system life.
Simplify and Customize Your Menu
Too many options can confuse your guests. Simplify your menu to target your best sellers and great alternative choices that can quickly become their next favorite. Make sure your server staff is well-versed in your menu to answer any and all questions.
Don't forget to make your own unique stamp into your hospitality business. Make unique items that cannot be found anywhere else (or at least locally). You want a calling card that draws people to your facility, whether it is a unique food item or specialty drinks.
Advanced Systems Co specializes in both commercial heating and commercial cooling options for a variety of businesses nationwide. We have customized solutions for restaurants, bars and even government agencies. We offer lowest price guarantees and are well-versed in all of our products. Get your custom quote with us today!