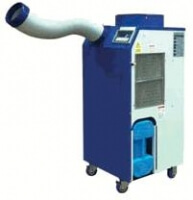 Its getting hot, so we have some cool new products:
We have been building our own version of the old COOLZONE portable misting fans and cooling stations for hazardous location cooling. We also now sale the PORT A COOL hazardous location evaporative cooling systems by their self or on our custom-built cooling trailers for total portability.
We have our GSA government approval and we now sale and manufacture our cooling fans for all facets of the US government and fire rehab and oil field rehab.
We have had lots of interest in building more affordable mist fan retrofit kits and we now have a very nice line of hi pressure mist pumps and stainless steel misting rings that you can attach to your existing fans and make them into misting fans with little to no effort at a very low cost.
With the addition of our new fab shop we are able to fabricate any custom cooling systems you may need for outdoor use and warehouse / shop cooling. When it comes to portable spot cooling or misting systems we can and will keep you cool under pressure.
Advanced misting systems is also well known for our vast knowledge with dust control systems and odor control for trash transfer station odor treatment and sewage treatment plants.
Keep in mind that Advanced Misting Systems can make any environment a cool zone!