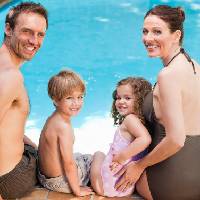 Spring is here! That means it's time to get outside and enjoy the beautiful weather, and maybe even fit in some spring cleaning. With all the activities available as the weather warms up, we can't forget that summer is approaching, and that now is the time to begin preparing for the hot summer ahead of us. Here are some tips to stay cool as the weather heats up.
Drink plenty of water – This is the simplest solution, but also the most important. Keep water with you, and make sure those around you stay hydrated.
Keep fans running – Keep the air moving to stay cool. Misting fans are another great way to cool down in the sun during the summer months.
Wear light, loose clothing –light cottons and short sleeves will help keep you cool on hot days.
Avoid physical fitness in direct sunlight – keep your workouts indoors, or run at night when the sun isn't beating down on you.
Do not let anyone sit in a parked car – Cars can become ovens in the summer; make sure to only have people in a vehicle when the air is running.
Keep your mouth closed – closing your mouth will keep it from drying out, slowing down dehydration.
Eat cool-down foods – Cucumbers, as well as watermelons, grapes, asparagus and mint, help to cool down the body. Keep them around when in the sun.
Stay cool under the covers – Fill a standard hot water bottle with ice water. Use it to cool your ankles and the back of your knees while you sleep.
All of these methods will keep you healthy and safe as the temperature rises. Looking for another way to cool down? Check out the vast array of misting fans Advanced Misting Systems has available. Whether you are looking for a personal misting fan or something to cool a large group, Advanced Misting Systems has you covered. Give us a call today at 1-800-549-5077 for more information.