Outdoor kitchen and dining patio misting systems have grown in popularity in recent years, and Advanced Misting Systems can meet the needs for your personal and business use. Homeowners and business owners have experimented with a variety of cooling measures for their outdoor kitchens and patios during the hot summer months, ranging from simple umbrellas to evaporative coolers. However, if you live in a location where summer temperatures can soar to triple digits, those methods may be insufficient. Investing in an outdoor kitchen and dining patio misting system from Advanced Misting Systems is undoubtedly the very best solution.
Since the early 1990s, Advanced Misting Systems has been selling advanced commercial and residential backyard misting systems. Over time we've enhanced our misting system inventory to incorporate some of the industry's most advanced patio misting systems and technologies.
How Do Our Outdoor Kitchen & Dining Patio Misting Systems Work?
Patio misting systems have come a long way since their inception. At Advanced Misting Systems, we have always sought to be on the cutting edge of the latest technology in cooling systems. All of our backyard misting systems operate on the principle of evaporative cooling, which occurs when water evaporates in hot or humid air. These systems are equipped with a high-pressure water pump and a powerful blower fan to ensure maximum efficiency.
Let's better understand how this process works; water is forced through misting nozzles or a centrifugal misting system, resulting in a fog of invisibly tiny water droplets. This fog is so fine that it will not feel damp on your skin or clothing but will instead provide a delightful cooling sensation. Most of our cooling fans can connect directly to your outdoor kitchen water supply.
We also offer stainless steel misting rings, low-pressure misting rings, and a wide range of other professional mister supplies and equipment. With Advanced Misting Systems' evaporative cooling misters, your patrons, family members and guests will truly thank you for a comfortable outdoor experience.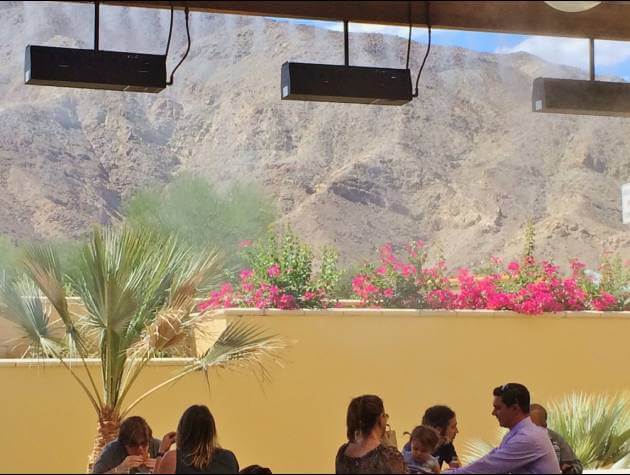 Why Use Our Misting Systems
The following are just a few of the reasons why our clients continue to give us excellent reviews for outdoor cooling systems:
Affordable
Our DIY misting systems offer an ideal balance of quality and price. With our high-quality misting kits, you can spend more time outdoors preparing your favorite meals without blowing your budget.
Eliminates Allergens & Dust
Our outdoor misting systems also have an additional welcome benefit: they can help reduce dust, foul odors, and flying insects. Our cooling systems produce a thin mist that reduces the amount of dust and allergens in the air, thus helping to keep everyone healthier.
Highly Adaptable
The flexibility of our systems means we can cater to any outdoor home or business need. For more intensive applications, we have a 30-foot, 1000-PSI cooling and misting system available. Temperatures can decrease by up to 30 degrees between 30 and 20 feet, depending on the circumstances.
A mid-pressure (300 PSI) misting unit is ideal for regular company operations with a rear patio and can reduce temperatures by up to 20 degrees.
Avoid Heat-Related Health Risks
We all enjoy being outside, especially when the weather permits it. However, spending an extended period of time in sweltering weather might result in significant health risks, such as heat stroke. Heatstroke occurs when the body loses more water to evaporation than it can restore in a short period. Indeed, the Centers for Disease Control and Prevention (CDC) recently issued a warning that heat-related illnesses were on the rise. Therefore, investing in an outdoor misting fan or cooling system is one of the best safeguards against this for your outdoor kitchen or dining area. Whether for a restaurant or home your dinners will appreciate the cooling effect you provide with your outdoor patio misting system.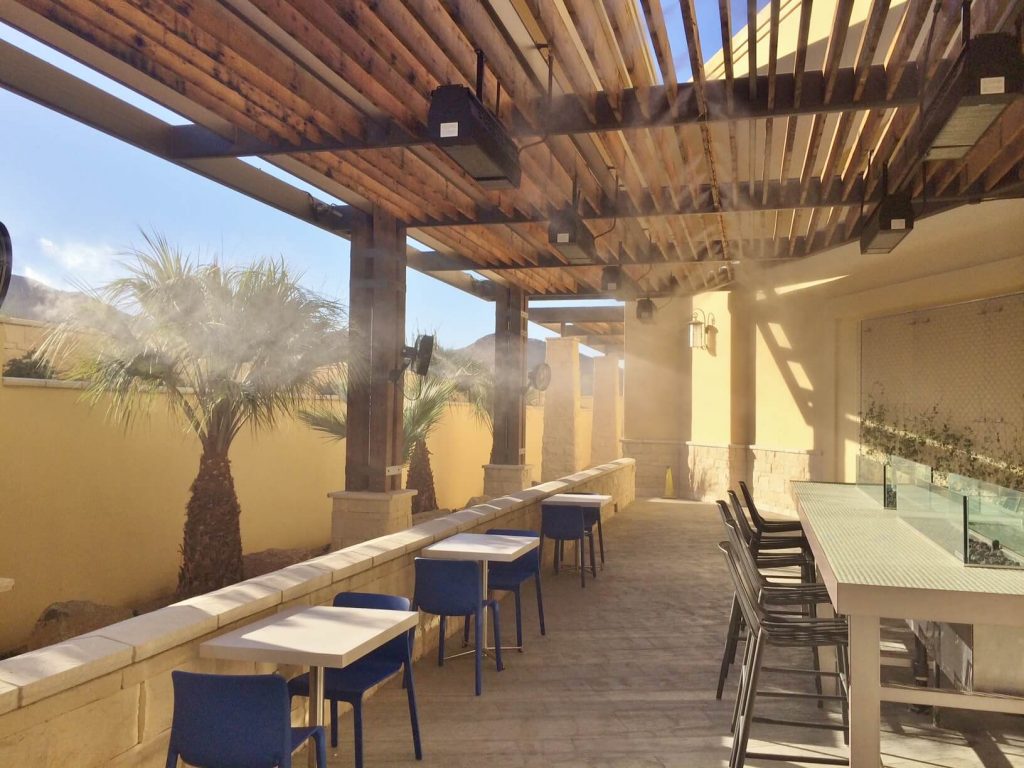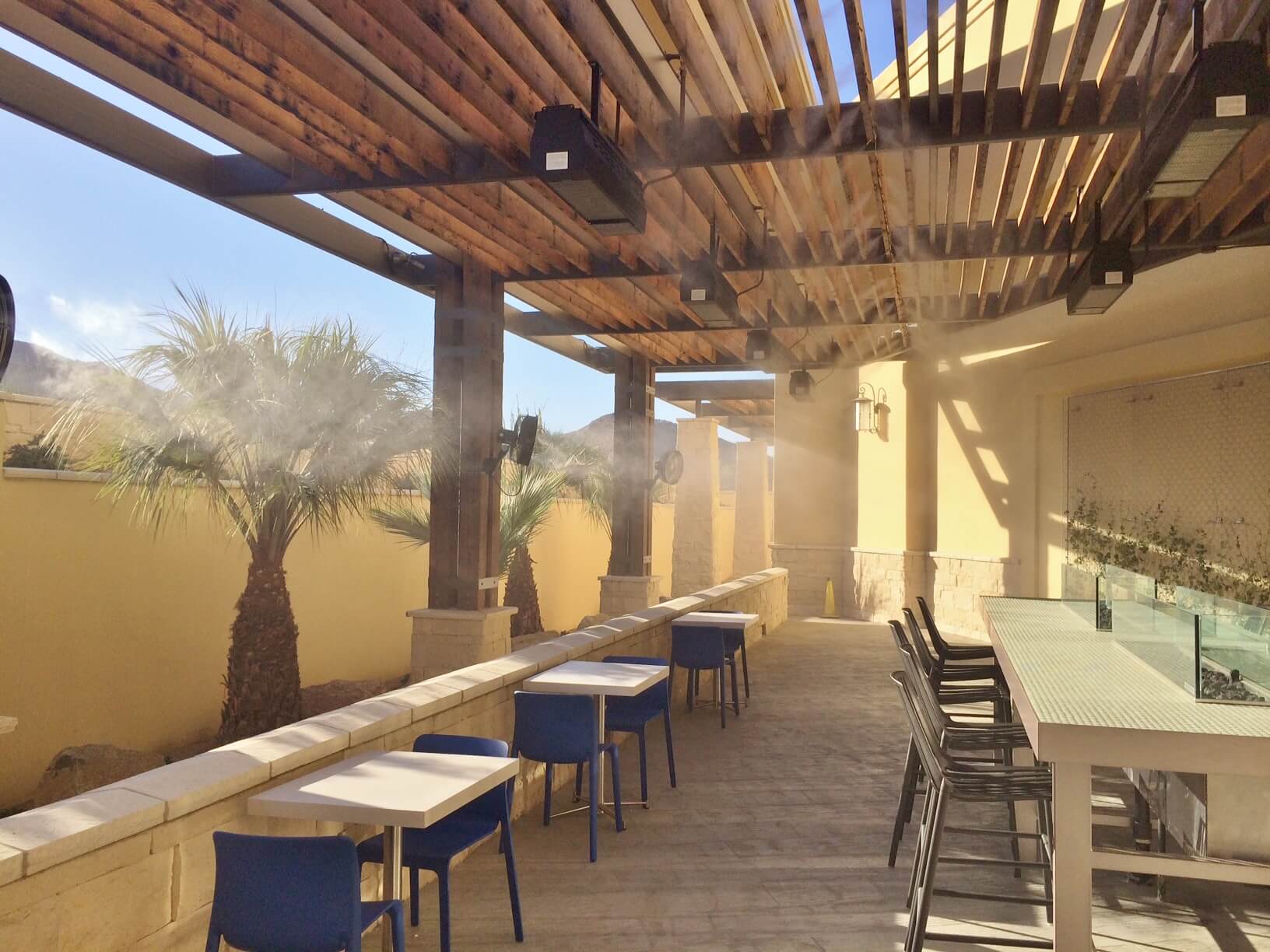 Contact Us to Schedule a Consultation
The evaporative cooling systems of Advanced Misting System makes use of the most energy-efficient pumps and motors available. Our skilled sales and service staff is well-versed in evaporative cooling, misting fans, outdoor cooling systems, and patio misters. Please contact us today if you have any questions about your own custom configuration of outdoor kitchen misting systems and outdoor dining patio misting systems.