For the highest-quality, affordable commercial outdoor bar and patio misting systems, look no further than Advanced Misting Systems. We have been the premier leader in selling low, medium, and high pressure misting systems for DIY applications such as backyard patios and commercial spaces for close to two decades. This is unsurprising given that outdoor bars, patios, pool side bars, sheds, and outside pubs are becoming increasingly popular all over the country.
Advanced Misting Systems has been a recognized name in the sale of commercial misting systems since the 1990s. During our years in the business, the misting technology in the inventory we carry has evolved tremendously. Including state-of-the-art misting pumps that compliment most of our misting kits.
How Do Our Outdoor Misting Systems Work?
How do our customizable misting systems keep you cool during the hottest days of the summer? Our manufacturer's proprietary technology leverages the science of thermodynamics, highlighting three methods that the human body utilizes in order to lose heat and cool down; conduction, evaporation, and convection. Misting fans use all three.
Our patio high end misting systems are equipped with a high-pressure water pump, including a powerful blower fan to maximize efficiency. Our high end pumps generate an ultra-fine mist using misting nozzles or a centrifugal misting system to provide a lovely cooling sensation.
Our misting pumps are built with UL-certified components, as our experts about our pumps that include a safety valve that automatically shuts down the pump when the water supply runs low. Furthermore, ask us about our high pressure and mid pressure unit types that have thermal and short circuit protection to avoid overloading your home or business's breaker circuit.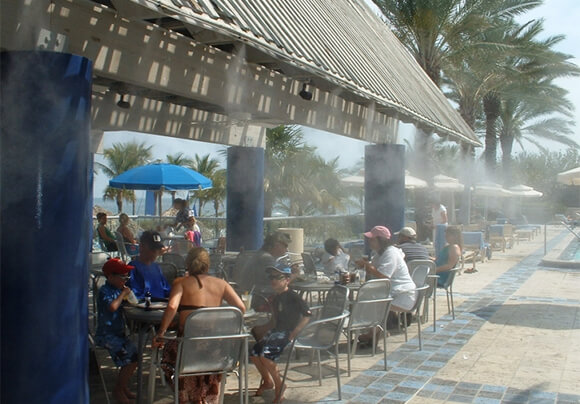 Benefits of Using Our Outdoor Bar & Patio Misting Systems
For close to two decades, our customers have rated our misting systems as some of the best in the market. Below are the benefits you can expect from our outdoor bar and patio misting solutions.
Lessen the Risk of Heat-Related Health Issues
Outdoor bars and patios are some of the most enjoyable places to be when the weather permits. However, prolonged exposure to excessively hot temperatures can pose serious health hazards during summer, such as heatstroke. Heatstroke is a dangerous condition that is triggered when the body loses more water than it can replenish in a short period of time. Health experts have warned about the rising cases of heat-related illnesses in the country. One of the best preventative measures is to invest in an outdoor misting cooling system. The cooling effect is even greater when our powerful outdoor misting system is coupled with shade.
Customizable & Adaptable
A welcome feature of our patio misting fans is their ability to be customized and tailored to your specific needs. This makes them ideal for any outdoor application, including outdoor bars and patios. Furthermore, they can be used as an alternative to air conditioners and traditional fans, saving money on energy costs. Regardless of the design of your outdoor bar or patio, our outdoor misting systems and misting fans can be configured to provide much-needed relief from the outdoor heat.
Our systems are also highly adaptable. This enables them to meet a variety of outdoor applications, including bars and patios. For larger spaces, we can provide a 30-foot, 1000-PSI misting cooling system which can lower temperatures by up to 30 degrees. We also feature mid-pressure (300 PSI) patio misting units ideal for daily business operations with a small rear patio or serving window.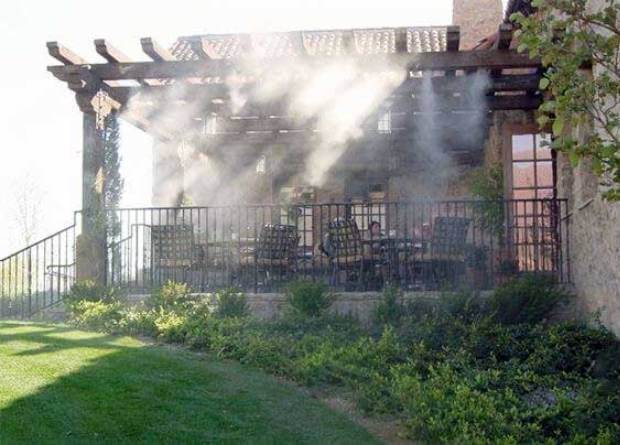 Eradicate Dust, Odors, Insects, & Allergens
Another advantage of using Advanced Misting Systems' outdoor misting systems is that they effectively minimize dust, odors, flying insects, and allergens. It's a well-known fact that one of the disadvantages of being outside is the presence of dust and flying insects, especially if you're at a restaurant. Thankfully, misters help repel pests from the dinner table or gathering area.
Additionally, because outdoor air is essentially unfiltered, any foul odors from the outside can waft in the area. This is in addition to the potential of allergens being present, such as pollen and ragweed, which can induce severe allergic reactions. By utilizing an outdoor patio misting system, these issues can be considerably mitigated, allowing guests to have a more pleasant outdoor experience.
Ready to Order?
At Advanced Misting Systems, we have amassed tremendous experience in all types of outdoor patio misting and cooling systems, including for bars and patios. Simply put, we know what works and what doesn't, and we don't stop helping once the sale is made. Contact us for more information and we'll be happy to assist with getting your commercial outdoor bar or patio a customized misting system.