Patio misting systems from Advanced Misting Systems offer our customers multiple benefits for their favorite outdoor spaces. However, just the top three benefits of owning an outdoor mist cooling system make them worth the investment for residential or commercial properties. Read on to learn more about how patio misting systems work and how these systems can help create a unique and inviting atmosphere that will make your outdoor space more enjoyable to use.
How do Patio Misting Systems Work?
Outdoor misting systems can be a terrific method for staying cool during the hot summer months. With a patio misting system, a pump pushes water throughout misting lines and through a series of nozzles, where it is distributed into the air as mist. When the mist encounters the warmer air and sunlight, it quickly evaporates. As a result, it leaves the air in the area cooler – sometimes up to 15 to 30 degrees cooler. Because of the speed at which this cooling process occurs, you are unlikely to come into direct contact with water vapor. Therefore, you, your clothes, and anything you put in a misting system area will not become soaking wet.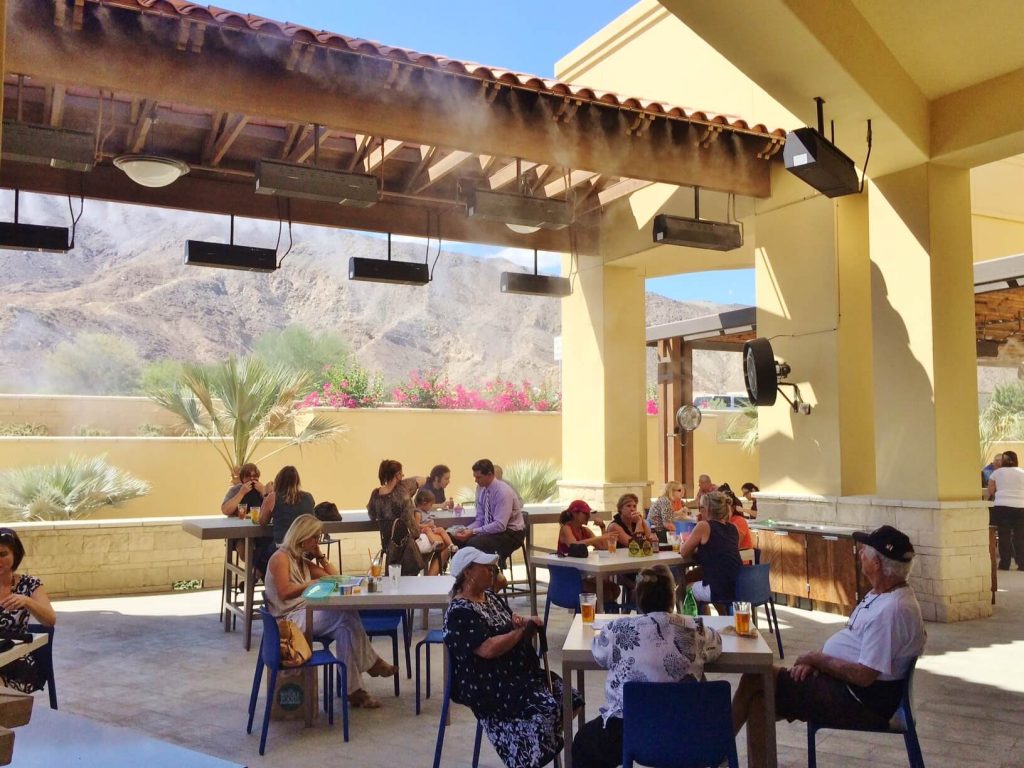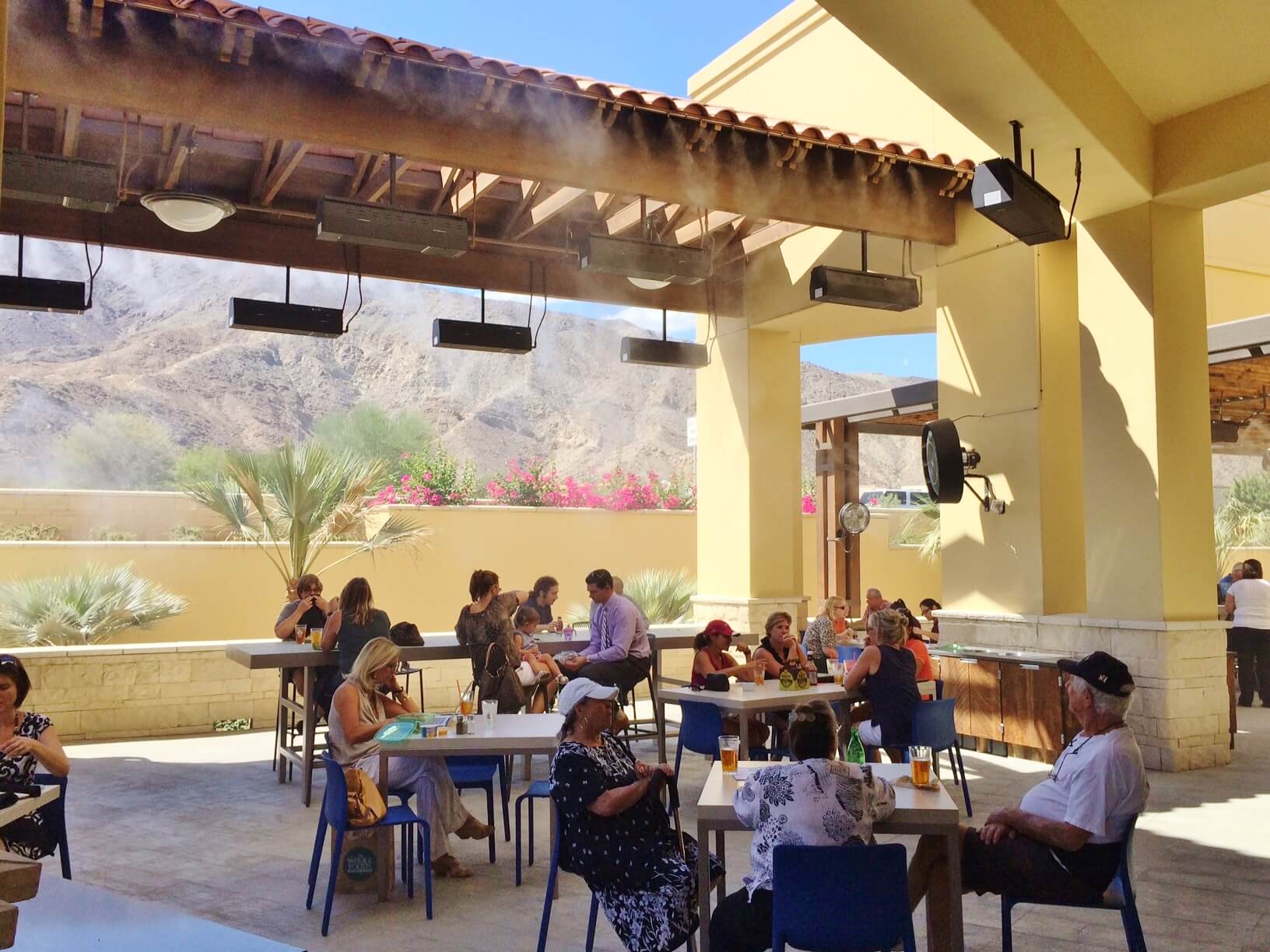 Top 3 Benefits of Installing an Outdoor Misting System
If you've been considering a patio misting system for your home or business, you may be wondering if it's worth the investment. The best way to determine that is to review the top three benefits of owning a high-quality outdoor mist cooling system from Advanced Misting Systems. These benefits include:
#1. Efficient Cooling
When the temperatures outside start to rise, the last thing you, your loved ones, or your customers want to do is spend time outside on a patio or any other outdoor space. However, with a patio misting system installed, the outdoors can be enjoyed without feeling an excess of summer heat. The mist generated by one of our outdoor cooling systems will help cool the area down, making it an ideal way to beat the heat and enjoy outdoor spaces more often.
#2. Insect Control
Patio misting systems are excellent for helping manage warmer temperatures. However, they can also help manage pests in outdoor areas as well. The mist generated by an outdoor mist cooling system makes it more difficult for bugs, such as bees, wasps, dragonflies, and mosquitoes, to fly through. As a result, these kinds of pests are less likely to bother those enjoying outdoor spaces with misting systems. By installing a high-quality patio misting system, you can help keep your loved ones or guests cooler and less bothered by insects.
#3. Improved Air Quality
Patio misting systems can effectively improve the general air quality in and around an outdoor area. This is because the mist created by these systems raises the humidity levels in a space. As a result, allergens, like dust, pollen, and more, have increased difficulty when moving through the air. This ultimately helps make the air in areas affected by a patio misting system of a higher, healthier quality.
The humid air created by outdoor misting systems can also reduce the spread of foul odors on a patio or other outdoor areas. So not only is the air affected by a patio misting system likely of higher quality, but it is also more likely to smell better.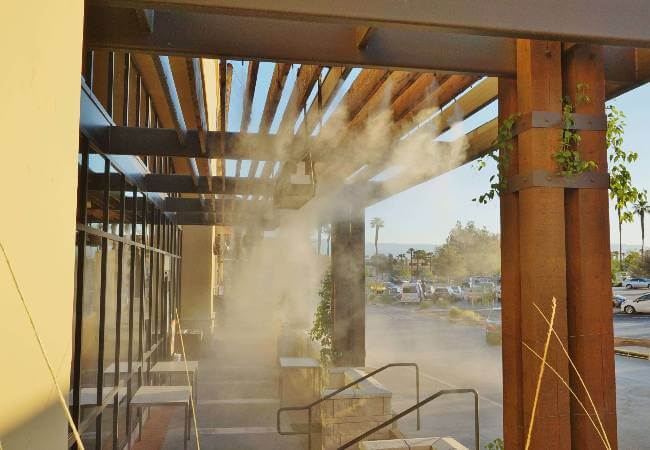 Why Choose Advanced Misting Systems?
Advanced Misting Systems is a leading provider of high-quality outdoor mist cooling systems. We offer a variety of options to help fit our customers' unique misting and cooling needs. In addition, our systems are easy to install and use.
Ready to Order? Get a Quote!
Patio misting systems from Advanced Misting Systems can provide nearly any outdoor space with various benefits. The top 3 benefits of installing a patio misting system include efficient and effective cooling, insect control, and improved air quality. With our outdoor mist cooling systems, you can get more enjoyment out of your patio or any other outdoor area, even on the warmest days of summer.
With more than two decades of experience, Advanced Misting Systems can assist consumers in identifying the most appropriate cooling solution for their specific needs. Our friendly and knowledgeable staff is available to help you with additional information about our products and services at your convenience. Contact us today for more details about patio misting systems or to get a quote!