Fog cooling systems from Advanced Misting Systems can do more than just help cool an outdoor space; they can also transform your backyard into an otherworldly oasis. Not to be confused with misting kits and other similar setups, a fog cooling system uses a combination of high-tech pumps and innovative engineering to lower the overall temperature of a backyard area while providing a stunning aesthetic effect. For high-quality fogging systems, residential and commercial customers turn to the experts at Advanced Misting Systems.

How Do Modern Fog Cooling Systems Work?
Fogging systems work by pumping water in tiny droplets into the air. Unlike misting systems, fog cooling systems generate even smaller water droplets, creating a fog effect. As the fog fills an outdoor space, it slowly evaporates. As a result, the fog helps cool the air in and around it, creating a cooler and more comfortable outdoor area for you and your loved ones to enjoy, even during the warmer summer months.
In some cases, fog cooling systems can help reduce the temperature in a space by up to 30 degrees. However, the level of cooling is largely dependent on outdoor conditions, especially humidity. For example, fog cooling systems typically cool an outdoor area by about 12 degrees when the humidity is between 40% and 90%. However, they can provide a more significant cooling effect when the outdoor humidity is below 40%.
How Our Fogging Systems Can Enhance Your Backyard Experience
Fogging systems add a unique cooling experience to your backyard. Unlike mist from a misting system, fog evaporates slowly. As a result, fog cooling systems not only help reduce outdoor temperatures in an area, but they also provide an otherworldly aesthetic effect. This effect can enhance the overall backyard experience for you and your loved ones. For example, with a fogging system, you can transform the atmosphere of your pool into something more so resembling a tropical oasis.
To enhance the cooling of your favorite outdoor area, it is often helpful to use a fogging system in conjunction with an outdoor misting system. As a result, your backyard can be cooled even more quickly, even on the hottest summer days.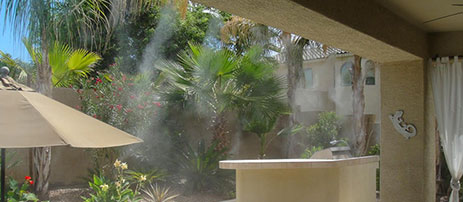 Installing a Backyard Fogging Cooling System
At Advanced Misting Systems, we offer fogging kits and fog mist cooling systems that make it easy to enhance your backyard. When used in conjunction with our 1000 PSI pumps, fogging systems have triple or single head adapters that allow you to modify the density of the fog generated. Our fog cooling systems are easy to install. You can add risers wherever you want using our high-pressure compression fittings and flexible nylon tubing. Simply connect the nylon tubing to each riser, and your backyard will have the fog effect that will set it apart from the rest of the neighborhood.
About Advanced Misting Systems
Based in San Clemente, CA, Advanced Misting Systems is an industry leader in providing high-quality misting and cooling systems for residential and commercial use. For the last two decades, our customers have benefited from our combination of high-tech but easy-to-own and operate cooling products. Our many beneficial cooling products include our fogging systems. By using regular tap water processed at a high pressure of 1000 psi, our fogging systems can create a fog that can lower outdoor temperatures by up to 30 degrees in ideal conditions.
Contact Us for More Information
Add a touch of beauty and drama to your backyard oasis with a fog cooling system from Advanced Misting Systems. With our high-quality fogging systems, your outdoor space will be transformed aesthetically, and you will be able to enjoy it more often, even during the scorching heat of summer. In addition, you can help cool your favorite outdoor space even more by pairing a fogging system with one of our high-quality outdoor misting systems. By utilizing the two systems at once, you can create incredibly cooler spaces in your backyard. Contact us today to learn more or get a quote!