Advanced Misting Systems' outdoor misting systems featuring enhanced safety features are one of the best investments for any home or business owner who enjoys spending time outside. Sadly, the warmer temperatures in the summer can make outdoor spaces uncomfortable. But with an outdoor mist cooling system, you can make it cooler and more comfortable in warmer outdoor areas, helping you spend more time outside with your loved ones, utilize restaurant patios in the summer, and more.
Imagine being able to cool down your backyard by up to 30 degrees while firing up your barbecue pit or entertaining friends and family. With the high-quality backyard patio misting systems from Advanced Misting Systems, you can finally realize your dream.
Advanced Misting Systems has been a leading provider of cutting-edge mist cooling systems since the early 1990s. Over the years, our misting kits have become highly regarded by both residential and commercial customers. Part of this regard is due to our commitment to offering our customers enhanced safety features with our mist cooling systems.


Misting Systems with Enhanced Safety Features
While there is no discounting the importance of outdoor patio misting systems for the summer months, many people have legitimate concerns regarding their safety. For example, what happens if a child pulls apart the system or a pet nibbles through the pipes? At Advanced Misting Systems, we are well aware of these concerns. As a result, our misting systems have enhanced safety features that help ensure that they are safer for use around children and pets. Some of the safety features in our outdoor misting systems include:
Use of Premium Stainless Steel
Mist cooling systems from Advanced Misting Systems feature stainless steel in many of our parts and accessories, including misting nozzles, tubings, and other hardware. Our stainless steel parts give our systems the necessary resilience to help withstand tampering by curious children and pets. The use of stainless steel also affords another safety feature because it helps prevent leaks and damage by weather elements.
Quieter Systems
Children tend to be fascinated by electronics and gadgets, especially those that make noise. Our innovative technology helps ensure that our misting kits operate quietly and efficiently – without drawing unnecessary attention. This quieter operation helps to reduce the possibility of tampering and interference by children, dogs, and other pets.
We Stock Parts and Accessories
If you want to enhance your misting system further or need to replace a part, we conveniently stock a variety of parts and accessories. This includes misting nozzles, fittings, tubing, filters, and other hardware components. We also stock the necessary assembly tools needed to make it possible for you to repair and replace your cooling system if needed.
Why Choose Our Misting Systems?
Outdoor misting systems from Advanced Misting Systems offer our customers considerable benefits. This includes: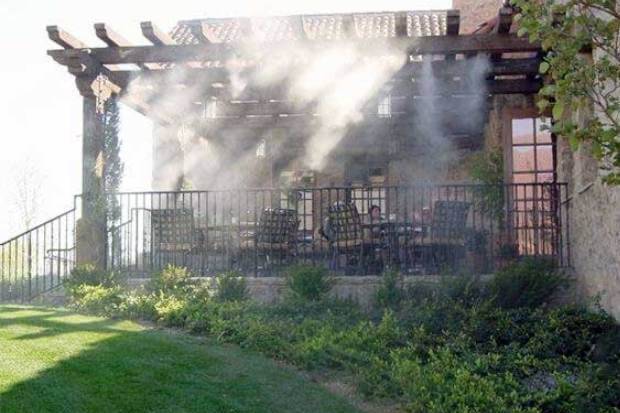 Easy to Install
All of our misting kits include straightforward instructions and are designed to be do-it-yourself friendly. As a result, they are easier to install and assemble, regardless of your degree of experience with outdoor misting systems.
If any pieces or parts break or need replacing, you can visit our online accessories store to shop for new components, such as nozzle heads, wiring, brackets, and mist pumps. This helps ensure that your mist cooling system lasts many years.
Affordable
At Advanced Misting Systems, we have excelled at providing both high-quality, reasonably priced outdoor misting systems for decades, making them more accessible to home and business owners with a variety of cooling needs and budgets. In addition, our components and accessories are reasonably priced and readily available through our online store.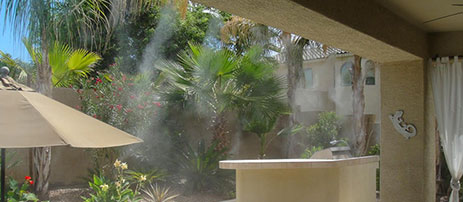 Contact Us for More Information
The outdoor misting systems from Advanced Misting Systems are an affordable, efficient, and safer way to cool outdoor spaces. Residential and commercial customers can benefit from the comfortable cooling they provide without worrying too much about safety. Features like stainless steel nozzles and tubing can help stop children and pets from tampering with our misting systems, which helps keep them running smoothly and helps keep them safer. Contact us today to learn more about our outdoor misting systems or get a quote!