For decades, a large number of enterprises in tropical or subtropical climates have recognized the value of investing in commercial misting systems from Advanced Misting Systems for cooling. Outdoor venue operators are constantly on the lookout for new ways to keep their spaces cool, and one such method is to employ a misting system. Restaurants, outdoor office patios, car shops, garden venues, theme parks, playgrounds, and farms are a few examples of these.
Advanced Misting Systems has been a market leader in selling and locally installing high-quality misting systems for commercial applications for over two decades. During that time, misting systems have come a long way technologically. An internal engine uses numerous pressured tubes loaded with tiny water droplets ranging from five millimeters to 50 microns to create a fine mist. A pressure of at least 500 pounds per square inch (PSI) is required to develop these-sized droplets, as anything fewer results in larger droplets with a lesser cooling effect. One thousand pounds per square inch is the industrial standard pressure.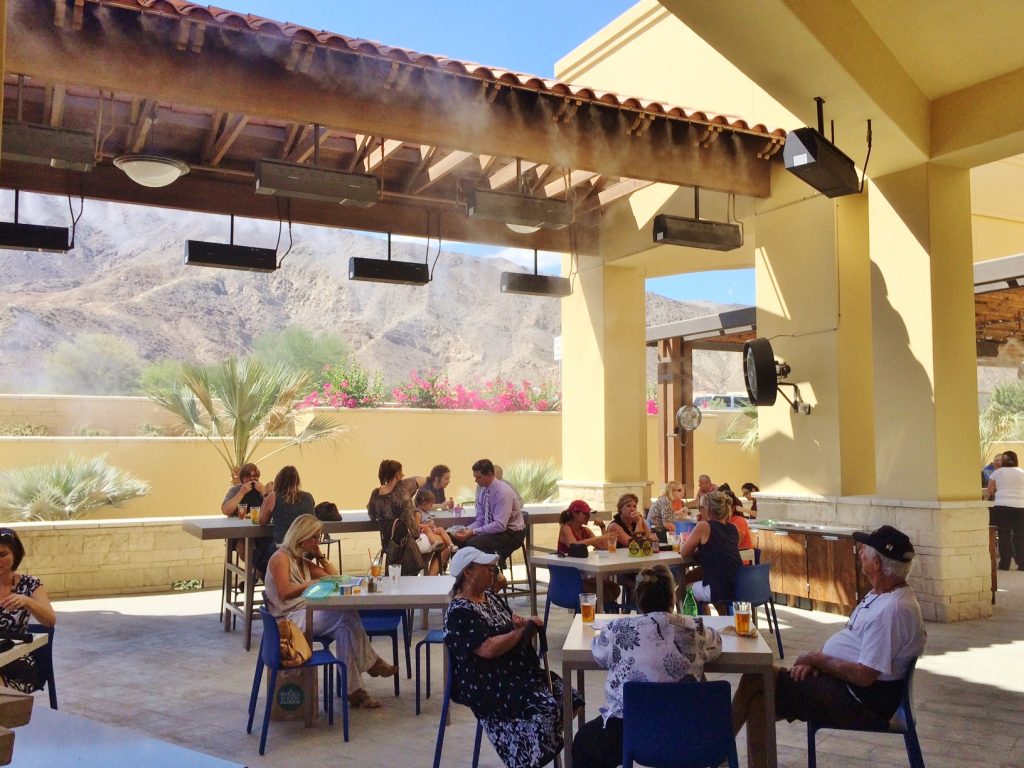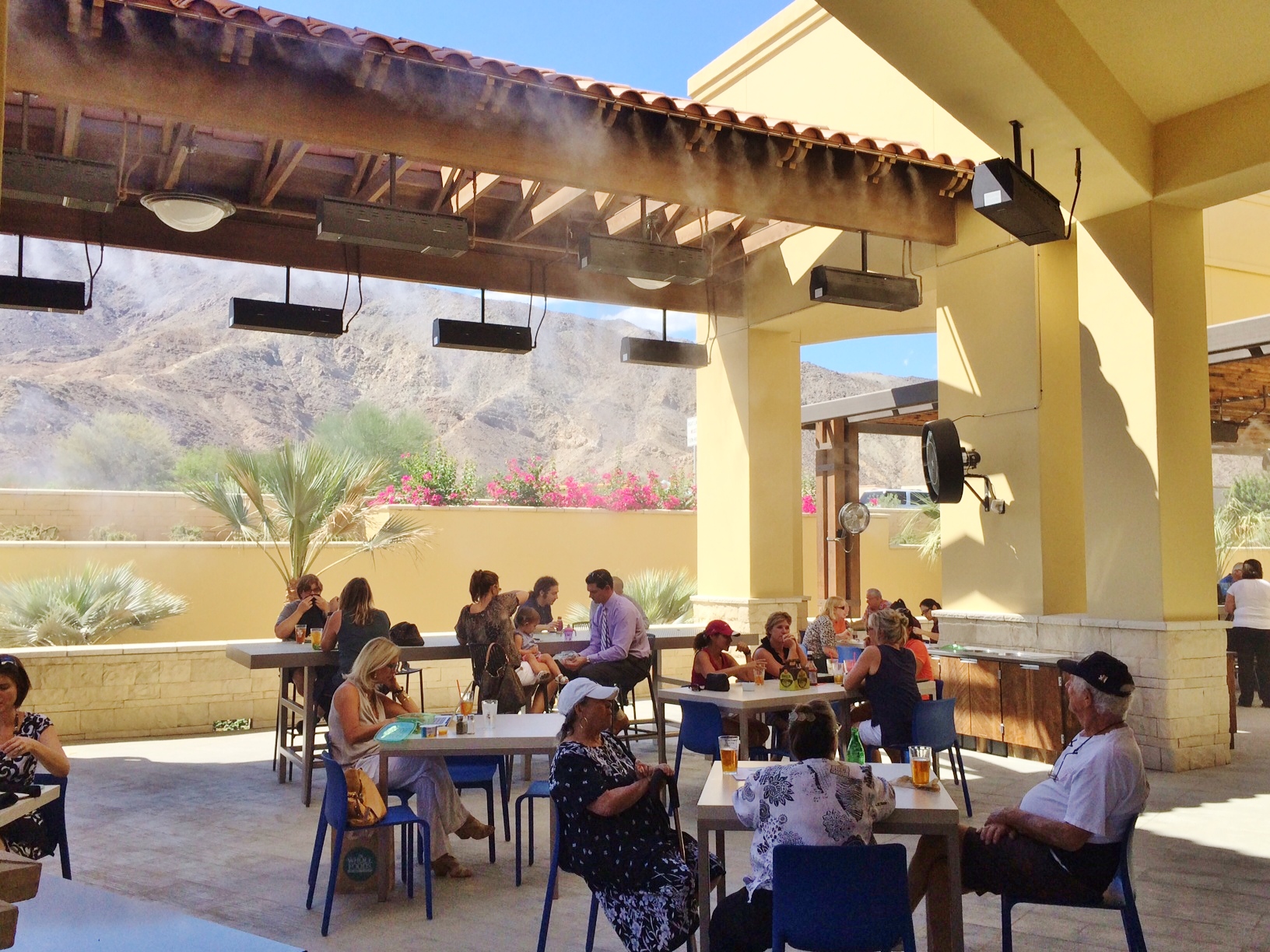 Business Patio Misting Systems
When it comes to commercial misting systems, there is no better evaporative cooling option than Advanced Misting Systems' misters and cooling fans. This is especially the case if your business operates an outdoor patio. Whether it's a restaurant, bar, or entertainment arcade, our misting technology can keep your guests, and customers cool during the hot summer months. Even in places where summer temperatures exceed 100 degrees, our commercial patio misters allow your customers to enjoy your outdoor venue.
The effectiveness of our misting systems is hardly unexpected, given our cutting-edge technologies. Our commercial cooling misters are outfitted with a 1,000-psi pump system that produces flash evaporation with no residual moisture. This can cool any place by up to 30 degrees Fahrenheit, allowing your guests to enjoy their visit even during the sweltering summer months.
Industrial Misting Systems
Our industrial misters and cooling fans are high-quality solutions that will keep your customers and employees cool and comfortable even in intense temperatures. They are perfect for industrial applications since they can produce up to six tons of evaporative cooling mist per fan. The high-pressure pumps spray a fine mist in front of the fans, absorbing heat quickly and giving cooled, comfortable air.
We can create an extraordinarily thin mist that significantly cools the air without leaving it moist or humid by combining stainless steel tubing, fog and mist nozzles, and our cutting-edge pump modules. Our high-quality commercial cooling fans are ideal for a range of applications, including:
Livestock & Animal Cooling Systems
Military Cooling Systems
Movie Set Cooling Systems
Odor Control
Oil Field Cooling Systems
Patio Misting Systems
Event Cooling & More
We also provide low-pressure and stainless steel misting rings and other professional mister supplies and accessories for even more unique cooling options. With evaporative cooling misters from Advanced Misting Systems, the outdoor cooling options for your needs are virtually limitless. Need parts and accessories? No problem!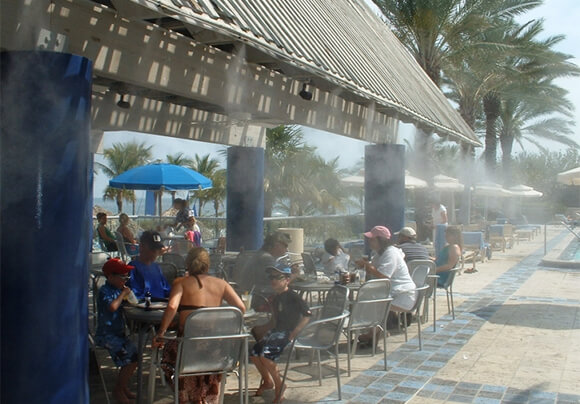 Flexible Solutions
Our systems are highly adaptable, allowing us to provide a solution for any outdoor business. Upon request, more elaborate cooling is available; we have a 30-foot 1000 PSI system available for more intensive applications. From 30 to 20 feet, temperatures might drop by as much as 30 degrees, depending on the situation. There is a mid-pressure (300 PSI) unit available, which is perfect for daily business operations with an outdoor patio and can drop temperatures by up to 20 degrees.
Contact Us to Schedule a Consultation
For even better cooling alternatives, we also offer low-pressure and stainless steel misting rings, as well as other professional mister supplies and accessories. The outdoor cooling possibilities for your commercial needs are nearly infinite with evaporative cooling misters from Advanced Misting Systems.
If you want to provide outstanding service to your team, visitors or clients with our commercial outdoor misting systems or business misting fans, give us a call at (760) 779-1352 or contact us online today to receive FREE delivery on orders over $100!