Our high-end outdoor misting systems can help improve your quality of life during the summer by creating a cooler and more comfortable environment.
While your patio may be a favored area to relax or spend quality time with family and friends, that space may not be practical to use during the hot summer months. That's why customers across the nation are turning to Advanced Misting Systems.
How Do Outdoor Misting Systems Work?
In many places across the United States, summer can be brutal, and staying cool can be challenging. For the longest time, most people have relied on fans and swamp coolers to cool their outdoor environment. Unfortunately, these methods are highly inadequate in terms of decreasing temperatures. Thankfully, there is a solution: outdoor misting systems.
Outdoor misting systems work on the premise of evaporative cooling. This principle dictates that water can absorb substantial heat during the transition from a liquid to a gaseous state. Outdoor misting systems consist of water supply tubing with spray nozzles evenly spaced along the length of an outdoor area. This system is typically attached to a structure that is higher up, such as a roof, outdoor patio enclosure or pergola. An external water source, like a garden hose or a faucet, is connected to the supply tube. Then, a built-in pump releases an ultra-fine mist through the nozzles that immediately cools an area without leaving it moist or uncomfortable.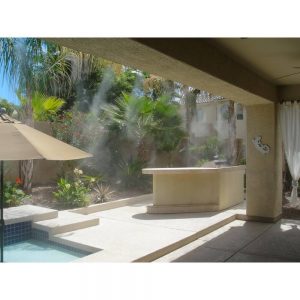 How Can an Outdoor Misting System Enhance the Quality of Your Life?
Enjoy Your Patio and Outdoors All Summer Long
Without an outdoor cooling system, one must wait until the summer temperatures decrease to enjoy their favorite outdoor spaces. In some instances, people will defer their outdoor activities until later in the evening after sunset or when the sun is setting. With an outdoor misting system, it is possible to lower the overall temperature of some areas by up to 30 degrees. This creates an opportunity to spend more time outdoors with friends and family during the day.
Help Avoid Heat-Related Health Issues
According to the Centers for Disease Control and Prevention (CDC), over 600 people die in the United States each year due to extreme heat and heat-related illnesses, such as heatstroke. This generally occurs during the summer months with above-average temperatures and high humidity levels. One way to help prevent the risk of heatstroke is with an outdoor misting system that generates an ultra-fine mist. This cooling mist can help immediately lower an environment's temperature and help people avoid the heat.
Allergy, Dust, & Pollen Control
In addition to excess heat, summer is a time when there is a lot of dust, pollen, and other allergens in the air. These airborne materials can make life miserable for those with allergies. One of the lesser-known advantages of outdoor patio misting systems is their ability to reduce airborne dust, pollen, and allergens. As a result, those with seasonal allergies can enjoy outdoor areas covered by a misting system without as much sneezing, watery eyes, a runny nose, or other allergic reactions.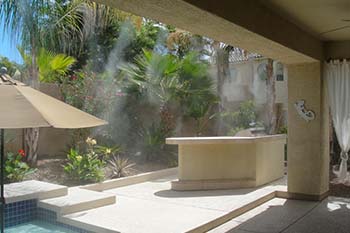 Energy Efficiency
Outdoor misting systems consume significantly less energy than other cooling apparatuses. Compared to an outdoor air conditioner, misting systems consume considerably less water and energy. This enables you to maintain a more comfortable outdoor temperature while saving money on your utility expenses. With an outdoor misting system, you may enjoy classic outdoor summer activities, such as entertaining family and friends, without breaking the bank.
Ask About Our DIY Install Options
When it comes to installing our outdoor misting systems, the difficulty level is relatively modest. For DIY die-hards, our systems come in a DIY kit that contains everything you need for an installation. Soon you'll be ready to relax and enjoy your cooler outdoor area in no time. Operating the system is equally simple as well. A hose connecting to the side of the house may regulate the water coming into the misting systems.
Contact Us for More Information
Outdoor misting systems can make outdoor areas cooler and much more habitable during the warm summer months. In doing so, misting systems can increase your overall quality of life. If you have questions or are ready to place an order for a high-quality outdoor misting system, contact us at Advanced Misting Systems today!