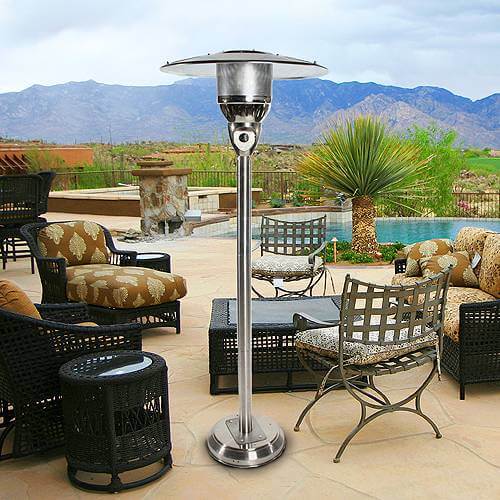 Patio heaters have grown in popularity quite a bit over the course of the last few years. Because of their large heat output, restaurant and home owners alike turn to outdoor patio heaters to extend the use of an outdoor area for a few extra months, and in many cases, all year round. There are several varieties of outdoor heaters to choose from, including portable heaters, mounted heaters and tabletop. After choosing a style of patio heater and picking out the perfect design to compliment the outdoor space, the only option remaining is the choice to go for electric or gas. While the choice may seem complicated at first, the final decision should come down to the style of space where you will be using it. This guide from Advanced Misting Systems explains the difference between gas and electric heaters so you can decide for yourself.
Electric patio heaters are very common in residential homes and restaurants due to their convenience. Because they run on electricity, you do not have to keep propane or gasoline on hand to refuel the heater. Most electric units run from a standard electric outlet and can be supplemented with an extension cord if necessary. They are also unaffected by the weather, including wind, and require little maintenance. Generally, these units can warm a 12 to 20 foot radius by up to 15 degrees. Halogen and infrared heaters, especially popular in commercial settings, are electric.
Gas patio heaters are very appealing on an aesthetic level. Because they produce flames and have the effect of radiant heat (feels like natural heat from the sun), these are especially popular for large events. They also do not require electricity to run, which is important for outdoor spaces that do not have access to an electrical outlet. Most gas heaters require propane. A 20 pound tank of propane should, on average, supply 10 hours of heat. However, because they produce flames, extra care must be taken to avoid the risk of a fire.
We have many different types of patio heaters to choose from in our online catalog, with several stylish designs and options. From portable to industrial heaters, we have something for everyone, including gas, propane and electric units. For help choosing the right heater for your space, or for additional questions, please contact us.