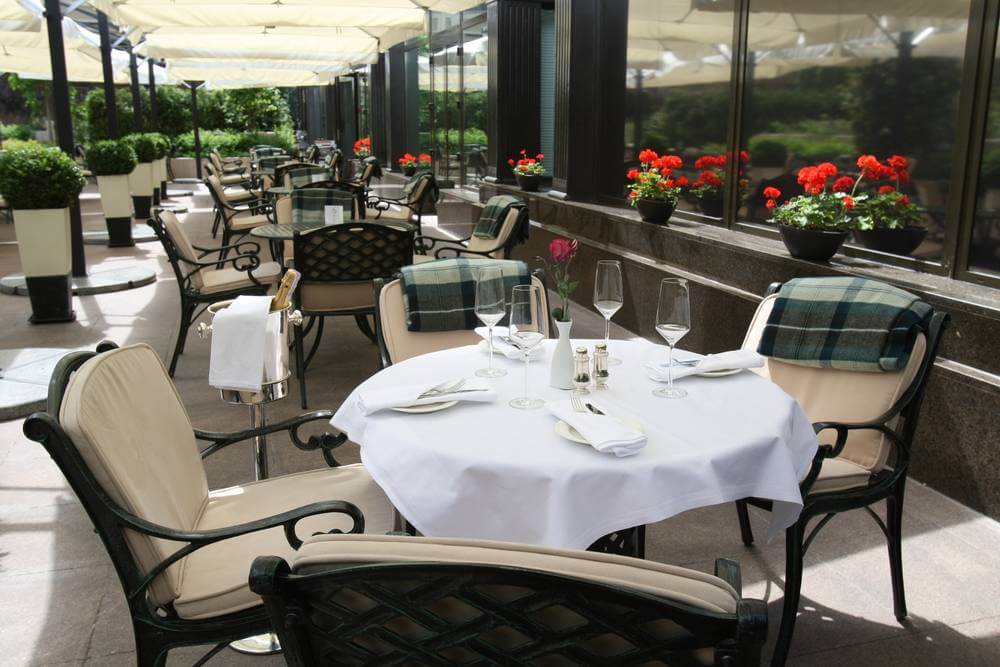 Patios provide a great way for patrons to linger over drinks, appetizers and brunch. Not only are outdoor restaurant spaces versatile, but done properly, they can become a great source of revenue for restaurant owners. These spaces provide opportunity for guests to stay longer and so order more items, as well as doubling your functioning seating area. Whether you are opening a patio, balcony, terrace or rooftop seating area, these tips from Advanced Misting Systems can make your outdoor space shine.
Theme
Your restaurant theme should be clearly evident in the design of the patio. The patio furniture should be similar to the furniture inside the restaurant, but should also be sturdy and functional. You will want to ensure that the space is well-lit, and decorate it in accordance with the style of the establishment. Casual restaurants could consider making the patio dog-friendly and advertising it as such. Other great ideas include adding a cooking area to showcase some of your chefs' talents or an outdoor bar to provide immediate service.
Customer Comfort
Patio seating should attract customers on temperate days, but when the weather is too hot or too cold, few people will want to sit out there. Remediate this problem with a few patio heaters for cold weather and misting fans for hot weather. You can install overhead patio heaters that will keep the area toasty and warm while remaining out of site. You could also invest in portable patio heaters or table heaters that can be easily moved into storage during the summer. Misting fans can make eating outdoors a much cooler affair in the heat of summer, and the cool mist is visible from outside of the restaurant, which may attract more customers. If the outdoor space is not covered, be sure to add table umbrellas to each table in order to lower the brightness and add shade to the space.
Functionality with Style
In accordance with matching your restaurant's theme, be sure to fill your patio with furniture that can easily accommodate groups. As the space inside of a restaurant is generally more limited than the space outdoors, groups may end up on the patio more often than not. If your patio is blessed with a great view, emphasize it by facing tables in the direction of the sight. If the patio overlooks something less pleasing to the eye, such as a parking lot, put a lattice wall around the border of the patio. Vines, ivy or other climbing plants placed on the lattice wall can turn the ugliest of patios into a green garden paradise. Keep your table décor functional, but stylish, and never hesitate to go the extra mile to make the outdoor dining experience a pleasing one. Another great feature that will attract customers and add to the value of the space is the installation of a giant ceiling fan. These fans are stylish and extremely functional – your fans will love sharing them with their friends.
Done well, a patio can become the highlight of your bar or restaurant. For more great outdoor design tips and information on our outdoor temperature solutions, be sure to subscribe to our blog or visit us on Facebook and Twitter. Advanced Misting Systems can help you design the perfect outdoor dining area for your bar or restaurant – give us a call at 760-779-1352.