It's 2019, on a cold rainy day and we are gearing up here at Advanced Misting Systems for the HOT summer months ahead.
Misting systems have gained popularity throughout the country during the warm season and certainly areas with warmer climates can benefit most from mist cooling.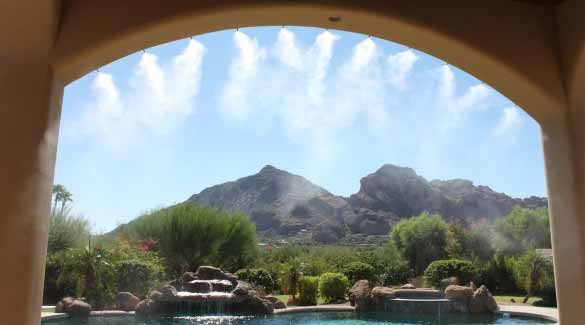 With the growing concerns of climate change, water consumption and energy use we are all looking for more efficient ways of cooling off during hot and humid summer days and thats were outdoor misting systems are introduced more and more.
You can't go to a restaurant, outdoor mall, amusement park or most any outdoor area used by people that is without a misting system these days. Last season we had an overwhelming amount of sales with the horse and barn community and by way of high pressure misting fans we had wonderful success with animal cooling like we have not seen in the 25 years we have been in the misting system industry.
Last season we also found more and more calls and sales came from customers that wanted to save a few bucks and buy our DIY (do it yourself) misting kits that we have made up in all types of variations that most any do it yourselfers can install and of corse we are always here to help as well.
Home owners and businesses considering to install their own mist cooling systems on patio decks, barns, greenhouses or almost any area needing cooling, there are a few things to consider. In most cases where and what your cooling will need to be planned out correctly for the most effective outcome and efficiency. For example, is this area right for conventional misting or do I need mist cooling fans?
The experts at ADVANCED MISTING SYSTEMS with our 25 plus years installing and selling outdoor cooling systems can help layout your systems and make sure its the right fit for your application.
This season we are going to concentrate more on our website to provide a variety of misting parts and accessories for existing misting system service and repairs, as well as new DIY misting kits with misting fans and portable misting fans.