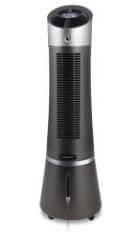 We talk a lot about the merits of an evaporative cooler over a standard air conditioner in terms of cost of installation, maintenance and operation, but it seems that not very many people understand how an evaporative cooler works. Also known as swamp coolers, evaporative coolers provide effective cooling by capitalizing on the natural process of water evaporation combined with a simple air-moving system. Keeping the interior of our desert buildings cool is a process that modern technology has made simple. But in the early 20th century, inventions such as air conditioning did not yet exist. People often stayed cool by sleeping outside on screened in porches during the summer. They would hang soaking-wet bedsheets and blankets on the screens and use fans to pull the night air through the moist cloth to provide a cool breeze to lower the room's temperature.
An evaporative cooler works more or less in the same way. Fresh outside air is pulled through moist pads, using evaporation to cool the natural air and powerful fans to circulate the air through the building. This process can lower the room temperature by up to thirty degrees. This technique is perfect in arid environments, especially for those who suffer from allergies caused by dust and dry air. Unlike a standard air conditioner, swamp coolers maintain a small amount of humidity, reducing the need for additional appliances, such as humidifiers.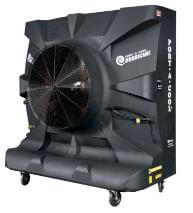 Another benefit of evaporative coolers is that they use far less energy than central air conditioners. This is because evaporative cooling employs water's heat of vaporization. Simply put, the temperature of dry air is lowered significantly through the energy of the transition of liquid water to water vapor, requiring less electricity than refrigeration because the energy comes from the water transition itself. Air conditioners, on the other hand, merely recycle the air already inside the building, which means that more electricity is required to cool the air in the first place, much more to distribute it throughout the building.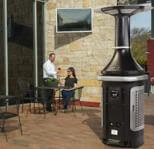 Advanced Misting Systems has a diverse inventory of evaporative coolers for every need. We offer systems as simple as personal cool-mist humidifiers and as heavy-duty as portable swamp coolers for backyards, patios and barns. We also carry a large selection of systems for industrial cooling, agricultural cooling, livestock cooling and all of the parts and accessories one would need for repairs and enhancements. A list of some of our more popular evaporative coolers can be found in the Evaporative Cooling FAQ section of our website. To get more information about what cooling solution is best for you, contact Advanced Misting Systems online or call us at 760-779-1352.