The weather here in Southern California is starting to warm up, possibly in the 90's this weekend. The first hints of our brutal summers get our seasonal population thinking about heading north,  back to cooler temperatures. That also gets many of the Homeowners Associations & Facilities Managers thinking about all the renovations and improvements they plan to make during the "off" season when the occupancy rates are lower.
For us this means LOTS of bids to do for misting. Misting Systems are such an easy way to make your outdoor spaces more pleasant during warmer weather. There is little to no disturbance to your existing structures, plus you get a tremendous bang for your buck!
We use a little photo magic to give our clients an idea of what the areas will look like with a mist system up and running. Here is an example from a local golf course and country club.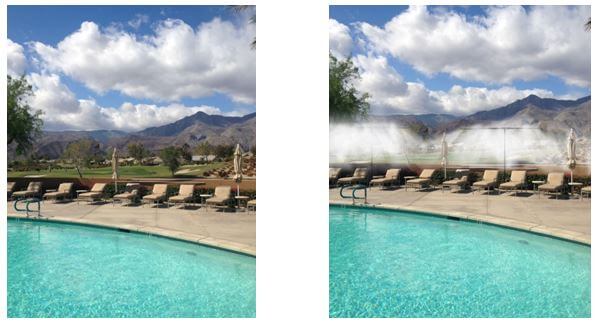 In these before and after pictures we are utilizing the Mist Tee Bar Systems. The area did not have any existing structures to attach traditional mist tubing to, but that can't stop us.  Another way to utilize mist where there is no overhang or other structure to attach mist line too is with your existing landscape. Check out how we used the tall palm trees on the property. Our Mist Rings did the trick.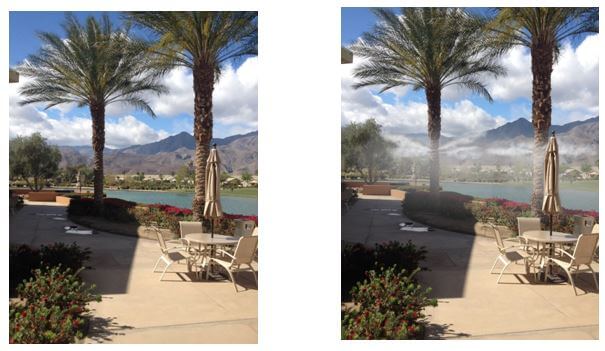 Do you have an unusual location or situation where you would like to have the cooling effects of High Pressure Mist? Or do you need to create "zones" of mist? You can create a High Pressure Misting System that is divided into individually controlled zones with a computerized High Pressure VFD Pump System.
Contact us and we will be happy to help you design a system to fit your needs.