An outdoor misting system from Advanced Misting Systems can be an ideal addition to any outdoor venue, event, or activity in need of cooling down spectators, visitors, or any other group of people. Despite the heat, summer is almost always a great time to enjoy outdoor events and activities like sports, sporting events, festivals, and more. Sadly, extreme heat can make spectating or enjoying an outdoor event uncomfortable. In some cases, it can be downright dangerous to a person's health and well-being. Fortunately, outdoor misting stations from Advanced Misting Systems can help keep people cool, even on the hottest days of summer.
How Do Outdoor Mist Cooling Systems Work?
The industrial misting fans and misting systems from Advanced Misting Systems are ideal for various high-heat outdoor activities, events, and venues. Our misting systems consist of a high-tech pump connected to stainless steel tubes and nozzles, which release an ultra-fine mist of clean water into the atmosphere. Our misting pumps and motors are among the most efficient on the market today. They use 1,000 PSI of pump pressure to generate a 10-micron droplet that flash-evaporates, causing a significant drop in overall temperatures in the affected area.
Evaporative Cooling
Outside misting systems rely upon the concept of evaporative cooling, a thermodynamic process related to water and energy. For our systems, the energy from the sun causes the mist generated to evaporate rapidly. As it evaporates, it considerably decreases ambient, warmer temperatures in the air. Evaporative cooling created by our backyard and commercial misting systems helps spectators, visitors, and more enjoy outdoor venues, events, and activities – even on the hottest of days of the year.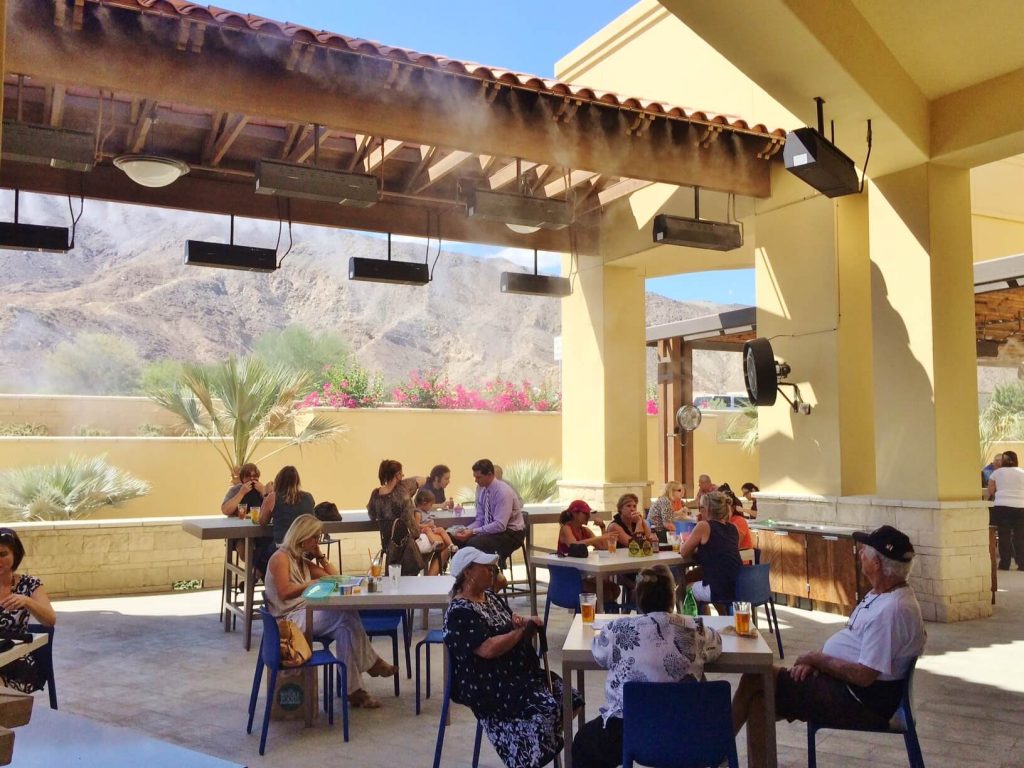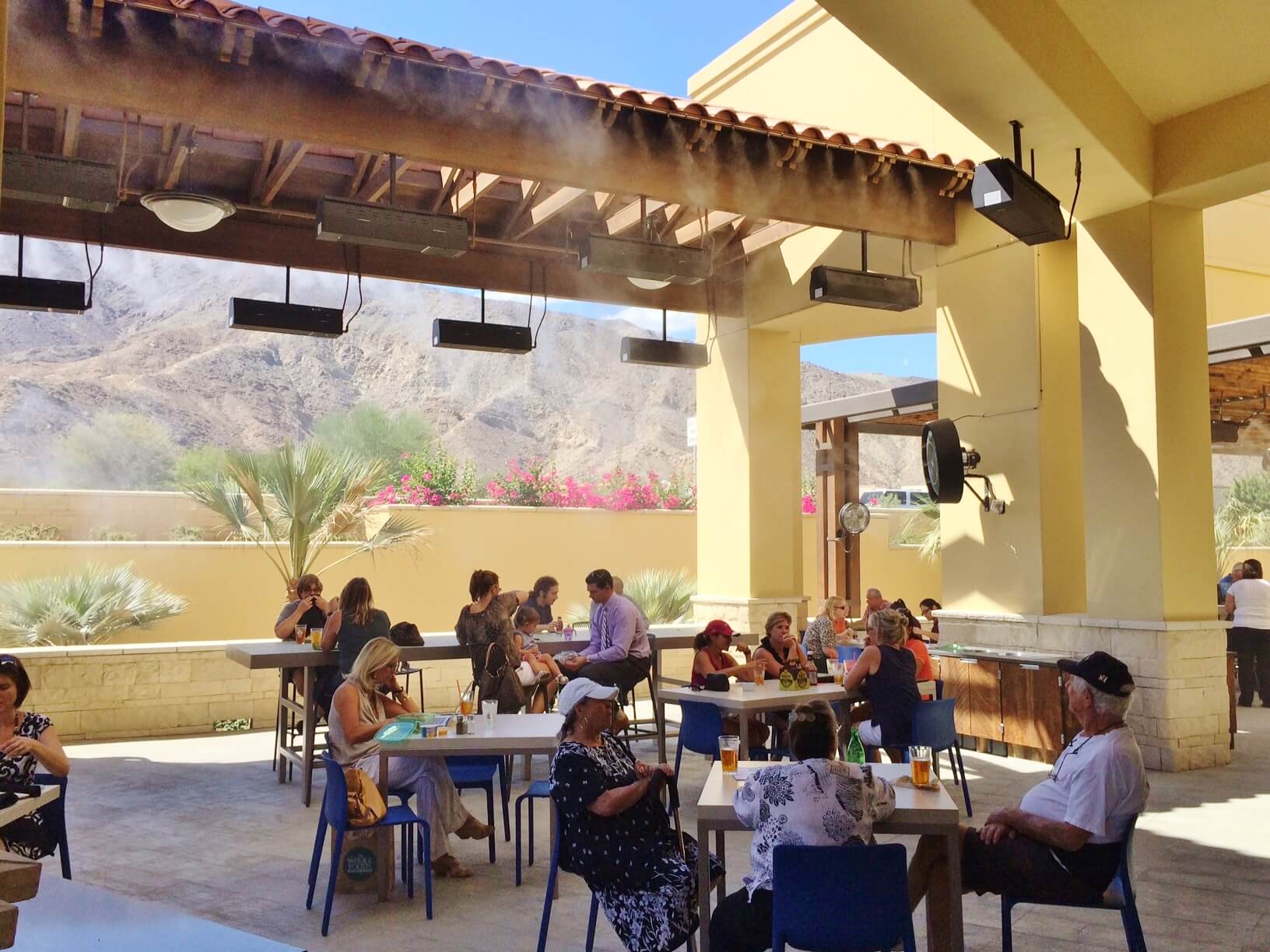 Why You Should Consider Our Outdoor Misting Stations
Advanced Misting Systems has been an innovative and leading supplier of misting systems for over two decades. Our company provides high-quality misting systems for residential, commercial, industrial, and agricultural applications, including outdoor cooling. Below are just a few of the many reasons why our misting systems are an optimal choice for outdoor cooling:
Enjoy Your Favorite Outdoor Activity Regardless of Temperature
Mist cooling is an incredibly cost-effective and efficient method of cooling open outdoor spaces. Using evaporative cooling methods, our industry-leading misting systems can cool the outdoors by up to 30 degrees using ultrafine water droplets. The finer the mist, the faster it evaporates, providing an instant cooling effect. With a cooler outdoor temperature, you, your loved ones, guests, spectators, visitors, or whoever else can enjoy a multitude of outdoor activities!
High-Quality and Dependable
Our cooling and misting stations are built to last. Our UV-treated flexible tubing and nozzles are highly dependable and resistant to wear and tear. They are also designed to quickly provide a cool, comfortable outdoor environment without detracting from the aesthetics of your facility, event space, or building. In addition, each misting kit is highly customizable to fit your specific cooling needs. As a result, our systems can help save money and provide a tremendous return on your investment.
Excellent Support
At Advanced Misting Systems, our team is highly committed to providing quality support and excellence. We help keep all of our misting systems operational by stocking the necessary parts and accessories. So whether your commercial misting system requires repair or you want to make improvements, we have what you need.
Misting Systems for Cooling Spectators and Visitors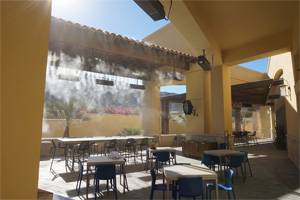 As temperatures rise, so does the demand for cooling systems, such as misting fans or patio misting systems. At Advanced Misting Systems, we have a wide range of cooling alternatives and solutions that can help patrons of dozens of outdoor events, venues, or activities stay cool. Popular commercial applications for our outdoor misting systems include:
Sports Venues
Most sports venues around the world are outdoors or partially outdoors. This can result in scorching game days during summer sports. Installing outdoor misting systems can help keep everyone from the players and staff to spectators cooler, allowing them to enjoy the match even more!
Resorts
Resorts and hotels often sell luxurious fantasies to their guests. However, during warmer months, these fantasies can be impaired by hot weather. With outdoor misting systems, the luxury and comfort of staying in a resort can be more secure, especially in outdoor settings like pools, bars, gardens, and restaurants.
Amusement Parks & Fairs
Amusement parks and fairs are favorites for traveling families during the summer. Sadly, these mostly outdoor environments can be sweltering and prevent families from making the most of their trip. Outdoor mist cooling systems help create cooler amusement parks and fairs for families to enjoy.
Outdoor Dining
In areas where it snows, the summer months provide the rare opportunity to dine outside. With outdoor misting systems, restaurant guests can enjoy the fresh air with their meal while staying cool.
TV & Film Sets
Outdoor TV and film sets are another space that can benefit from cooling. Working on a set can take hours over the course of a day. Thankfully, the cast and crew of a production can stay cool with an outdoor misting system.
Nearly Any Outdoor Activity & Setting
These are just a few of the many outdoor settings that can benefit from a misting station. Nearly any outdoor event, venue, or activity can benefit from the cooling power of misting systems, especially when the weather is warm.
Contact Us for More Information
Misting stations are an ideal solution for guests, spectators, visitors, and more in various outdoor settings. Our commercial misting systems can provide these spaces with the cool air they need, especially during the summer months. Advanced Misting Systems designs, assembles, and installs high-quality misting systems and cooling fans for a wide range of residential, commercial, industrial, and sports applications. For more information on our cooling mist systems or to place an order, contact us today!