When it comes to expanding your living space during sweltering hot summer months, a misting system is particularly effective. For most people, the last thing they want during the summer months is to be trapped indoors constantly. Not to mention, it can be expensive to have the AC always running on full blast.
To avoid a scenario where it feels like you're trapped indoors and always looking outside to a small patio, or apartment balcony, or perhaps a small yard and thinking, "If only!", then a misting system could indeed be just the thing you're looking for.
How An Outdoor Misting System Works For Small Spaces
The way an outdoor mist cooling system works is relatively simple. Essentially, specialized nozzles force pressurized water through a tiny opening, which creates the fine mist. Then, as the moisture evaporates, a cooling effect is achieved. Through this happening, you can comfortably spend time outdoors in a space that would perhaps be unbearable during the hottest summer months.
If you're paying for an outdoor space, like a small yard or balcony, but never using it, then you aren't getting the most out of it that you could be. But, with a misting system, all of that can change for the better. And, as an added benefit, installing a mister for small spaces is a valuable amenity that can add value to your property—which is never a bad thing!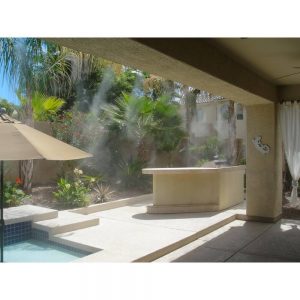 Things To Consider When Getting A Mister System For A Small Space
There are several things to consider when choosing your own mist cooling system. Let's go over some of these factors.
How Many Areas You Want Misting In
A significant point of consideration is how many areas you think will need misting. For example, if you have a small patio and a balcony at your condo, then you may want both of those areas to have a space cooling system. This can be especially useful if you have family members who enjoy spending time outside or have friends who often visit your place.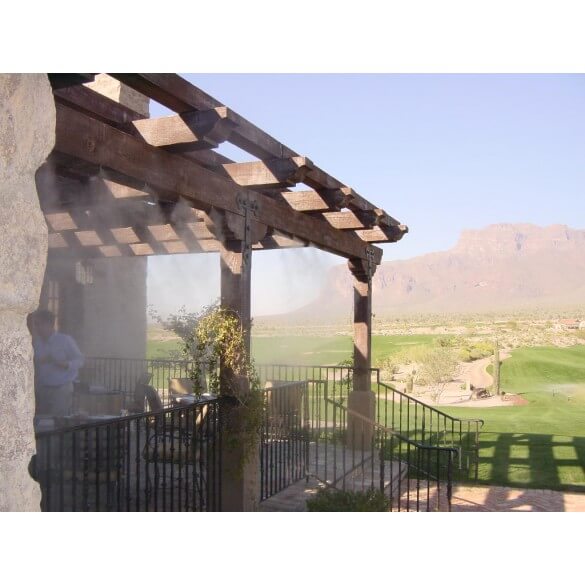 Size Of The Areas
The size of the area you want to be misted certainly plays a factor in the type of outdoor misting system that will be best suited for you. The floor area and height of the location will come into play here when choosing an ideal mist cooling system.
The Company Doing The Installation
Installing a misting system may not be rocket science, but you still want a company with plenty of experience and can do it right. For example, an inexperienced company may set the mist spray cooling system to be pressurized too high or too low, which will make it less effective. They may also not winterize it correctly, which if done properly will protect it when the weather turns colder.
Here at Advanced Misting Systems, we have over 20 years of experience installing misting systems for all clients, whether they are residential or commercial.
How To Measure For Your Mist Spray Cooling System
To measure the area where you want your backyard patio misting system to provide cooling, you'll want to have a measuring tape. Then you'll want to determine both the floor area and the height of the location you want your misting system installed.
What Temperature Decrease Can I Expect?
You can expect a temperature decrease of around thirty degrees Fahrenheit. In other words, a one-hundred-degree area that may feel unbearable to be in can be dropped to a comfortable room temperature level of seventy degrees. Any outdoor space you have will suddenly be turned into a spot you, friends, and family can all comfortably relax in.
Here Are Three Great Misting Systems We Recommend For Small Spaces
Build your Budget Misting System »
Build your Mid-Range Misting System »
Build your Premium Misting System »
Need Help? Contact The Experts At Advanced Misting Systems
Contacting us here at Advanced Misting Systems may just be the coolest decision you've made in a while. We've been in this industry for over 20 years and have expertise in installing misters for a wide variety of residential and commercial clients. And, we help you even beyond the installation process, as we provide advice and tips to you and answer any questions you may have.
Simply reach out to us here, and we will help guide you in choosing the ideal mist system for your needs.