In this Issue:
Learn how to change oil and filters on your pump.
Learn what kind of oil and filters your pump requires
Learn what tools are needed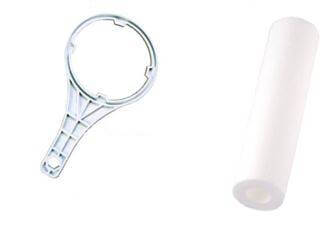 Misting pump maintenance is necessary for your pump to run at optimal performance. Advanced Misting Systems provides various pumps and parts to keep your system running smoothly all year round, making maintaining your misting pump easier than ever.
Importance of Maintaining Your Misting Pump
Maintaining your misting pump is crucial for preventing unwanted system issues. Preventative maintenance is cheaper and easier than having to repair your entire pump or misting system. We're answering questions about how to maintain your misting pump properly.
Frequently Asked Questions About Misting Pump Maintenance
Q: When do I change my filters?
Filters generally need to be replaced annually. Of course, water conditions and your system circumstances will help determine the best time to change your filter. However, a general rule of thumb is once a year.
Q: What filters do I use?
The filters you use will depend on which setup you have – you may have one or two filter bowls. You will likely need to start with the 5micron filter (in), followed by the 1micron (out). For Scale-X filters, the Scale-X filter goes first, then a 5micron filter.
Advanced Misting Systems enclosed pumps have both five and 1-micron filters to add additional filtering to keep the nozzles clean from dirt and debris. The pump covers are also fitted with a sound dampening sheet to reduce the pump's noise level by roughly 10 decibels over our direct-drive models. The 120V pumps have a standard plug for your home outlet. Additionally, they have a garden hose adapter to fit your outdoor spigot for the water supply.
Our resources tab will help you determine which oil and filter replacement you need. The instruction manual that came with the pump will also have all the necessary information.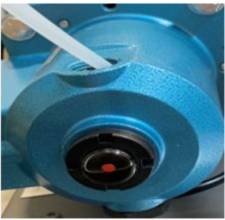 Q: How do I change my filters?
Filters are located inside the system canisters. Use a filter wrench to open the lid, then replace the filter in the canister housing.
Q: How often should I change the oil?
Oil should typically be changed every 500 hours or once a year for most systems. If the system is being utilized more frequently than initially anticipated, the oil can be changed more often.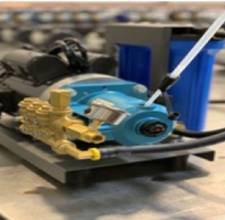 Q: What kind of oil should I use?
Each misting pump uses a specific type of head unit, and they all have a manufacturer-recommended oil. The owner's manual will detail the oil capacity for your particular model and system.
Q: How do I change my oil?
There are a few different ways to change the oil in your misting system pump. The easiest way is to extract the oil through the top breather cap. The second best option is to drain the oil through the plug on the bottom of the head unit. Whenever you change the oil, be sure to pay attention to the sight glass located on the head unit. Fill it to the red dot or center of the glass.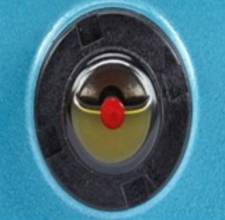 Q: Need Some Help?
Advanced Misting Systems employs experts who have been working in the industry for decades. These knowledgeable professionals are happy to answer any questions you have about misting pump maintenance. Give us a call today for questions!