Wow, things have been busy around here. We have spent the last month redesigning, manufacturing, assembling, and shipping a large heat rehab trailer order for Fort Benning Army Base the home of the United States Army Maneuver Center of Excellence.

We have been manufacturing these trailers for some time now, in a slightly different configuration. Due to increased temperatures across the nation we are seeing a steady increase in the number of units being ordered. Because of this, it was important to find a way to more economically ship these units all over the country.
The solution we came up with was to make the trailers stackable.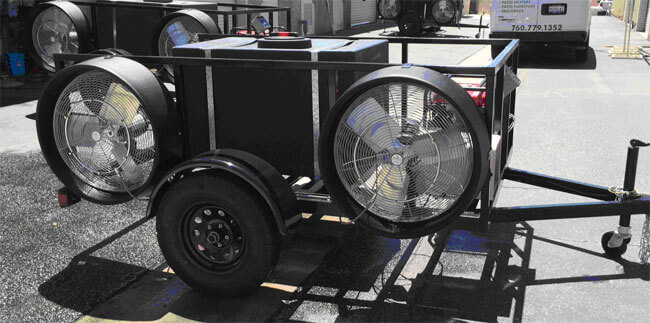 To accomplish this we lowered the misting fans and integrated them into the main frame of the trailer, which also makes them much more rugged. These portable misting trailers go out into the wilderness, and on the front lines of fighting fires so more rugged is definitely the way to go.
We can also customize the units to the specifications of the end user. The number of fans, size of the water tank, even the color of the fan shrouds is customizable.
Contact us for information on Mobile Misting Trailers or any of the other outdoor cooling solutions we have available.