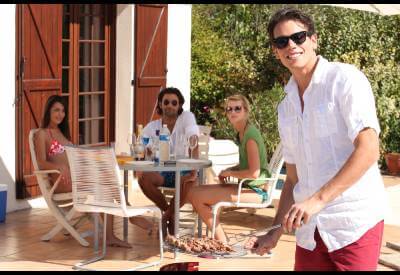 When it comes to perfect summer barbecues and family gatherings, the patio is no doubt the social hub of your home. But the sweltering heat is a hindrance to most things outdoors if you live in the American Southwest.  Even the best of parties can be ruined by the harsh sun, so it comes as no surprise to anyone that many people are giving their patios some much-needed TLC this summer. Whether you are improving on the patio already in place in your home, or starting out from scratch, these tips from Advanced Misting Systems can help you figure out the best way to keep your patio cool all summer long.
1.)    Paint the roof of your patio a light color in order to reflect more of the sun's rays and keep it cooler. Darker roofs will only absorb heat and pass it on to you.
2.)    Shade your patio with plants, or the side of your house, if possible. The more shade your patio is kept in, the cooler it will be. Planting shade trees to the East and West of your patio is practical and can add aesthetic appeal to your home. By protecting your patio both from the rising sun and the setting sun, you ensure that breakfast and dinner are best served on the patio!
3.)    Misting Systems: Remember, fans cool people, not rooms. Adding a misting system to your patio can help keep all of your guests cool. A ceiling fan here and there makes for a good supplement to your misting system. Great DIY misting kits are available on the Advanced Misting Systems website, but if you would prefer to avoid the hassle of installing a full system, you can always turn on a portable misting fan instead when you are using your patio.
4.)    Screens and Shades are great ways to keep the bugs out and also protect you and your guests from the sun, as well as provide insulation against the outdoor temperatures.
5.)    Move your grill as far away from your sitting area as possible, as heat from the grill may cause you and your guests to sweat uncomfortably.
The heat doesn't have to spoil your outdoor activities this summer as long as you take the proper steps to combat it! If you have further questions about designing your oasis, or if you are interested in purchasing products to keep your home or business even cooler, contact the pros at Advanced Misting Systems today. Call us toll free at: 1-800-549-5077.